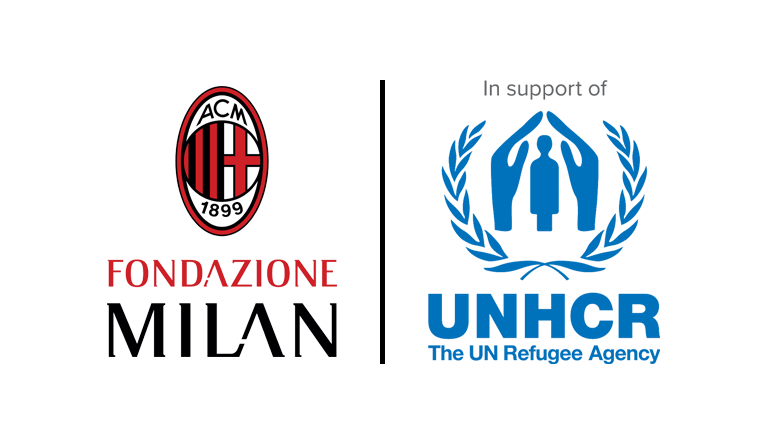 Fondazione Milan and the United Nations High Commissioner for Refugees (UNHCR) join forces once again to create sport areas in the reception centre in Niger hosting refugees evacuated from Libya
Fondazione Milan supports "Sport as therapy", the UNHCR project that will allow refugees evacuated from Libya to Niger to practice sport as a therapy to help them overcome their trauma. Fondazione Milan has generously funded the creation of recreational and sports areas in a reception centre under construction in Niamey, Niger. In particular, the funds will support the creation of a football pitch with stands, a basketball court and a volleyball and handball court.
The main beneficiaries of the project are refugees originating from the Horn of Africa who have been evacuated from detention centres in Libya by UNHCR. They are vulnerable people, mostly young people, who have suffered violence and torture. Many of them show the effects of deep trauma, and so the project aims to help them socialize and regain confidence and self-esteem through sport.
"Fondazione Milan has been one of our main donors for almost 10 years," said Laura Iucci, Director of UNHCR Italia Fundraising. "The commitment of Fondazione Milan has positively impacted the lives of thousands of refugees, especially children. Moreover, we are very happy and proud of this new collaboration which we hope will help many refugees to overcome their traumas and facilitate their social integration".
"Sport expresses its highest values when it leads young people to get together and smile," commented Paolo Scaroni, Chairman of Fondazione Milan. "With a football pitch or a basketball court we can help those left behind. This methodology is at the heart of the activities of Fondazione Milan to develop concrete initiatives in which sport generates well-being, equality and social inclusion. Refugees have the right to look forward to the future with hope and we stand with UNHCR in this".
"Sporting activity allows our beneficiaries to socialize and to better develop their potential and their human qualities, strengthening at the same time the capacity for dialogue and the spirit of collaboration and fostering full social inclusion," explained Alessandra Morelli, UNHCR Representative in Niger. "This is why we are truly grateful to organisations like Fondazione Milan that support us in our work aimed at boosting the healing process and restoring the dignity of the individual".
Fondazione Milan has supported UNHCR since the summer of 2010, as the Rossoneri non-profit organisation fully acknowledges the importance of sport for individual well-being and social cohesion. In the two-year period 2014-2015, Fondazione Milan funded an important sport-related project dedicated to Syrian refugee children in Lebanon and in 2016 it gave 90 of them access to school.
Solidarity is at the heart of Niger's political action. Since the end of 2017, the country has been collaborating with UNHCR on the Emergency Transit Mechanism (ETM), a programme aiming to provide life-saving assistance to refugees evacuated from Libyan detention centres while they wait for resettlement in third countries.
To date, over 3,000 vulnerable refugees and asylum-seekers have been evacuated from Libya, of which over 2,600 to Niger.