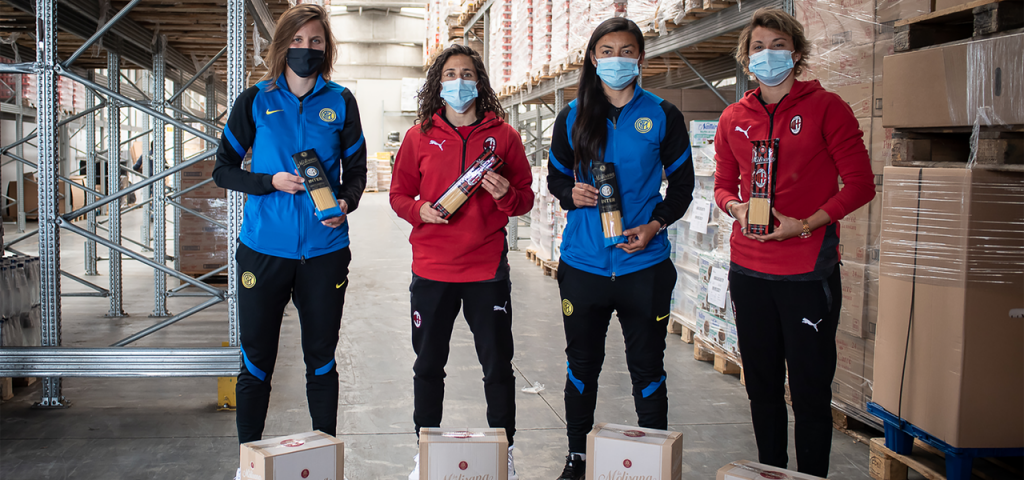 As part of a series of ongoing solidarity activities organised by Italian pasta maker La Molisana, AC Milan Women and Inter Women donated 2,500 kilos of AC Milan-branded pasta and 2,500 kilos of FC Inter-branded pasta to the Banco Alimentare della Lombardia of Muggiò, in the province of Monza and Brianza.
The 5,000 kilos, a concrete sign of closeness to the many families in need in Lombardy, were delivered today by the players and coaches of the two teams including Coach Maurizio Ganz,his deputy Davide Cordone, together with Captain Valentina Giacinti,and Vero Boquete for the Rossonere and Coach Attilio Sorbi, deputy coach Simona Zani, Lisa Alborghetti, and Yoreli Rincón for Inter Women.
On 24 April, just before the kick-off of the second leg of the Women's Coppa Italia Semi-final, AC Milan's Valentina Giacinti and Inter Women's Lisa Alborghetti exchanged two briefcases full of pasta to mark the launch of the initiative.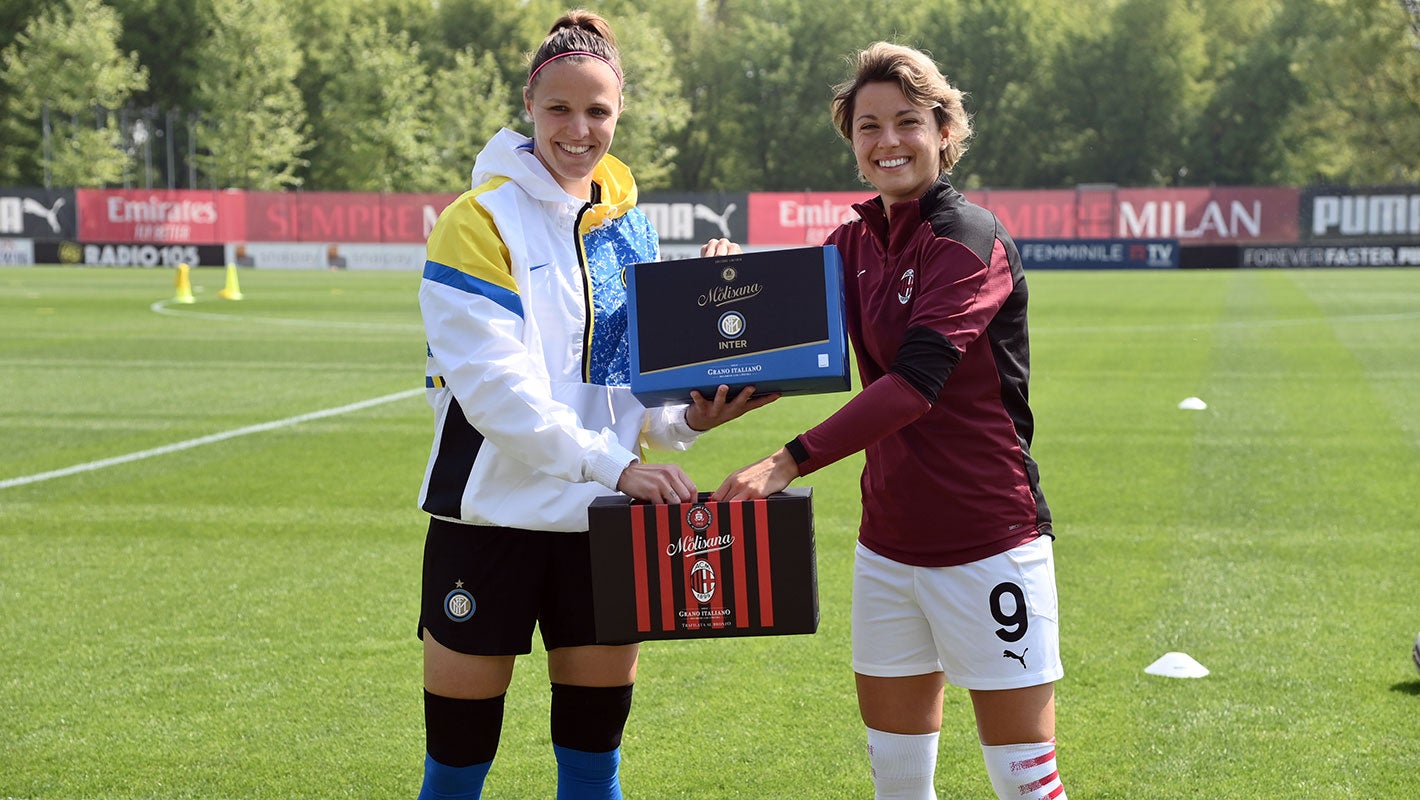 "Our goal is to always lend a hand and help the less fortunate" – said Rossella Ferro, Marketing Director of La Molisana – "We have therefore involved the women's team of AC Milan and FC Internazionale Milano in the donation of our pasta which, as everyone knows, is a "safe-haven asset", a long-life product that meets the needs of many families. By combining business, sport and solidarity, we managed to achieve a great goal. I wish to thank the two teams who immediately embraced our idea and supported us in our solidarity activities."
"We warmly thank the women's team of AC Milan and FC Internazionale Milano and La Molisana for this important initiative" – added Marco Magnelli, Director of Banco Alimentare della Lombardia – "a tangible response to the serious food emergency resulting from the Covid-19 pandemic. A great goal scored by solidarity to overcome the dire need and new types of poverty that are emerging throughout the Lombardy region and particularly in the city of Milan."
"Whilst a football Club like AC Milan must be focused on the performances on the pitch, it is also our duty to fuel solidarity on the territory" – commented Mauro Tavola, AC Milan Partnership Director – "That's why we immediately joined the initiative proposed by La Molisana. It is in these cases that the true values of sport come out and we are delighted to team up with FC Internazionale Milano to stand beside those who are suffering, especially in this challenging moment."
"FC Internazionale Milano's commitment to social responsibility projects is relentless and we are proud to be part of this important initiative organized by La Molisana" – said Luca Danovaro, FC Internazionale Milano Chief Marketing Officer – "Helping those in need is part of our history and values, especially in such difficult times."