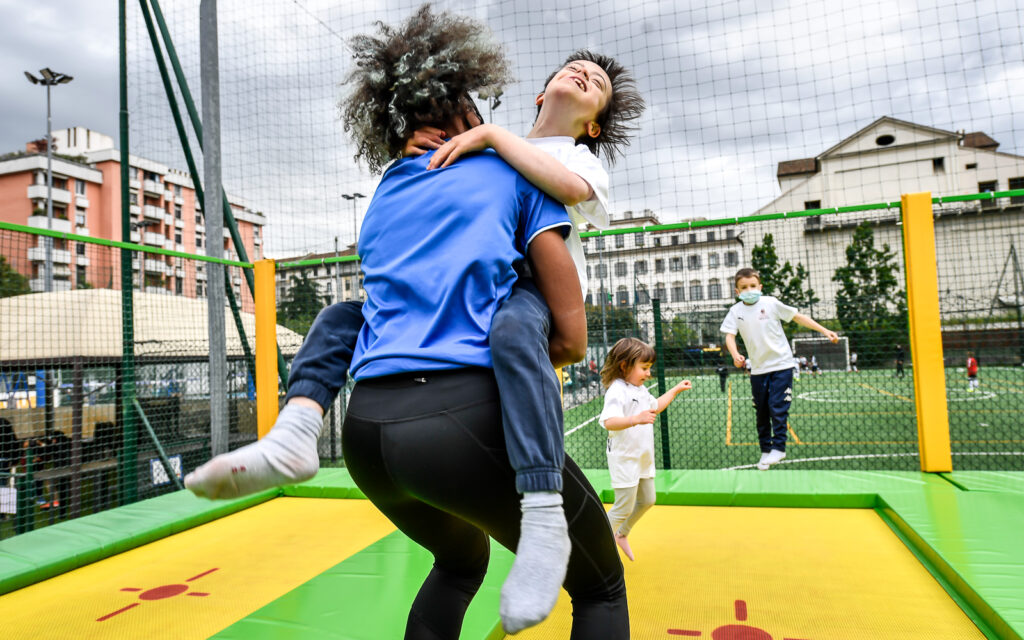 Cos'è successo in questa prima parte di stagione 21-22?
In questa prima parte di viaggio abbiamo presentato i nuovi progetti del programma Assist, lanciato il contest internazionale From Milan To The Word di Sport For Change e raccontato la ripartenza delle attività di Sport for All attraverso le parole dei nostri beneficiari.
Dietro a questi volti si celano grandi storie fatte di coraggio, voglia di riscatto, necessità di cambiamento, di sorpresa e miglioramento costante.
Grazie a Sport for All tanti bambini e ragazzi hanno trovato un posto in cui sentirsi a casa, dove poter mostrare il proprio talento ed essere seguiti in maniera attenta e mirata da tecnici ed educatori qualificati.
Ecco le storie di questa prima parte di stagione 21-22:
quella di Matteo, follemente innamorato dello sport come ragione di vita che partecipa al progetto Sport for All insieme agli amici di Playmore;
Luigi che sta imparando a socializzare con i compagni grazie agli amici dl Fondazione Ébbene di Catania;
poi c'è la storia dei grandi miglioramenti di Andrea e l'entusiasmo del suo tutor che lo guida durante gli allenamenti di atletica di CSV Emilia;
c'è Leonardo che, grazie a Sport for Change, è tornato in campo con i compagni dell'Associazione Sportiva Cometa;
oppure Mia con la sua travolgente energia;
non mancano Fabia e suo nipote, che hanno da poco scoperto il mondo Playmore;
e Malek che, grazie alla danza, ha trovato un modo per riscattarsi e mettersi in gioco.