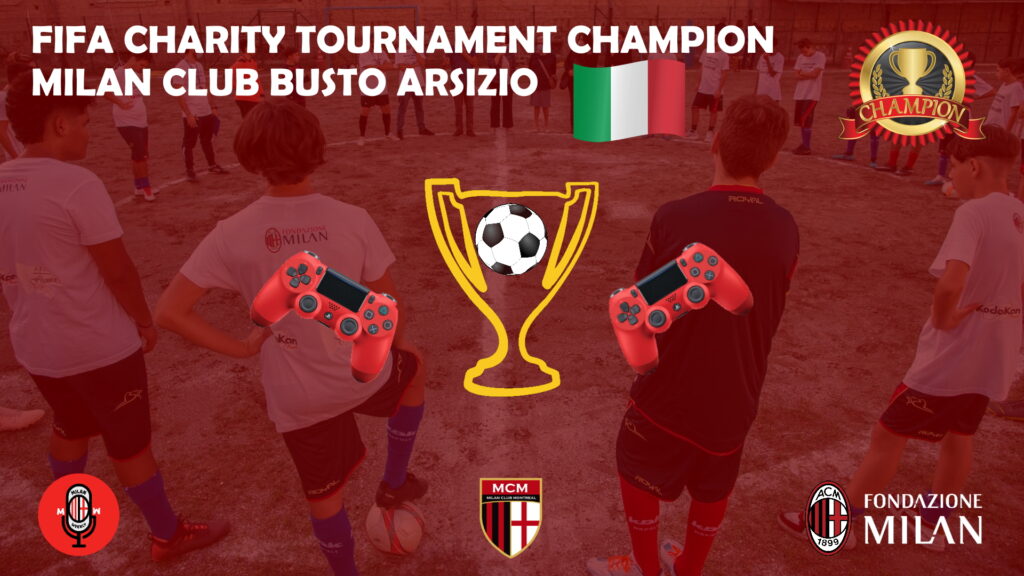 Si è concluso il torneo di FIFA 21 organizzato dal Milan Club Montreal che ha decretato la vittoria del Milan Club Busto Arsizio che in finale si è scontrato con il Milan Club Egitto, con il risultato complessivo di 2-1 per il club bustocco.
Nella finale di consolazione il Milan Club Albania, invece, ha battuto il Milan Club Polonia per un risultato totale di 13-4.
Così i piazzamenti conclusivi e i relativi premi:
1) Milan Club Busto Arsizio > Scudo FIFA21 firmato da Sandro Tonali
2) Milan Club Egitto > Home kit 2020/2021
3) Milan Club Albania > Felpa di Fondazione Milan
Nei prossimi giorni avverranno le consegne dei premi per i vincitori e poi verrà decisa la data per l'incontro/premio tra il Milan Club Busto Arsizio e Diego "Crazy Fat Gamer" Campagnani di QLASH.
Questo torneo è stata una bella occasione di divertimento per i 64 partecipanti e la possibilità di fare del bene, sostenendo concretamente i ragazzi che partecipano al progetto "In gioco per il futuro" (Play for the Future, da cui il nome del torneo).
Grazie ancora a tutti i partecipanti!
---
Gli amici del Milan Club Montreal hanno deciso di andare "oltre" e organizzare una lotteria a premi, i cui proventi andranno a Fondazione Milan per continuare a sostenere "Play for the Future".
In palio ci sono: la terza maglia AC Milan 2020/2021, la felpa Puma Fondazione Milan, la Gym Bag di Fondazione Milan e la t-shirt "Milan gaming".
Le donazioni possono essere fatte direttamente su:
Buona fortuna!