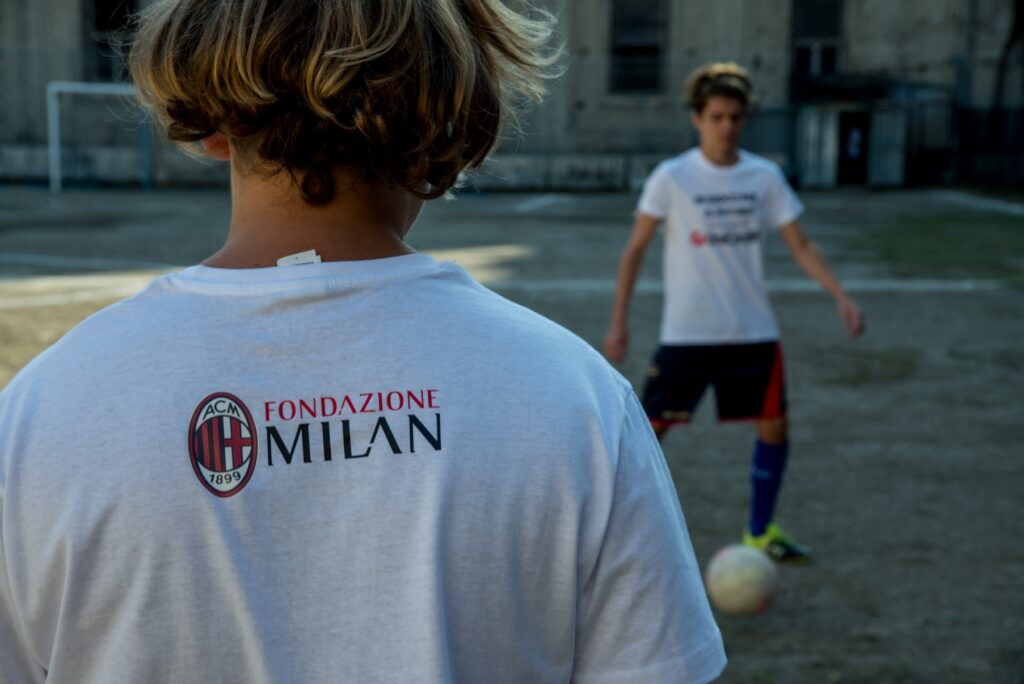 Harmont & Blaine renews its contribution to the "In gioco per il futuro" (In play for the future) project, supported by the Fondazione Milan and the Fhenix social promotion association, which operates in Campania and is particularly active in the city of Naples.
"Play for the Future" is in fact an initiative that is committed to accompanying, through football and other workshop activities, the educational path of young people at risk of dropping out of school and in conflict with the law, phenomena often fed by contexts characterised by educational poverty and poor cultural stimuli. In the common belief that sport and its values can concretely contribute, in a transversal way, to the education and the consequent social reintegration of young people in difficulty.
Harmont & Blaine, Official Style Partner of the Rossoneri team, has decided to take the field alongside the Fondazione Milan to offer solidarity and support to this initiative. Last December, the brand held a charity auction of items from the capsule collection "Harmont & Blaine x AC Milan" on CharityStars and donated the entire proceeds to "In gioco per il futuro".
"Ours is meant to be a small act of comfort and hope for the future of young people, trying to promote a more inclusive society where the appreciation of diversity can be a lever for positive change," says Harmont & Blaine CEO Marco Pirone.
"We strongly believe in sport as a means of education and growth for young people, even in difficult contexts. Our proposal is completed thanks to the collaboration with Harmont & Blaine in the Naples area, and allows us to offer one of our young people a job placement path. This collaboration is even more valuable in a time of crisis in the world of work such as the one we are experiencing," said Rocco Giorgianni, Secretary General of Fondazione Milan.
Harmont & Blaine's commitment continues in a concrete way, offering one of the young beneficiaries of the project the opportunity to carry out a 3-month training internship at the company's headquarters in Caivano, in the province of Naples.
The aim is to support the training and job placement of one of the young people who have finished school, thanks to an internship – which takes place from April to June – in the logistics section. The main tasks, carried out under the supervision of a company tutor, revolve around the concrete management of the warehouse and all the relevant documentation, as well as monitoring incoming and outgoing goods and stocks.
From sports to work, sharing educational values to help young people face life constructively.