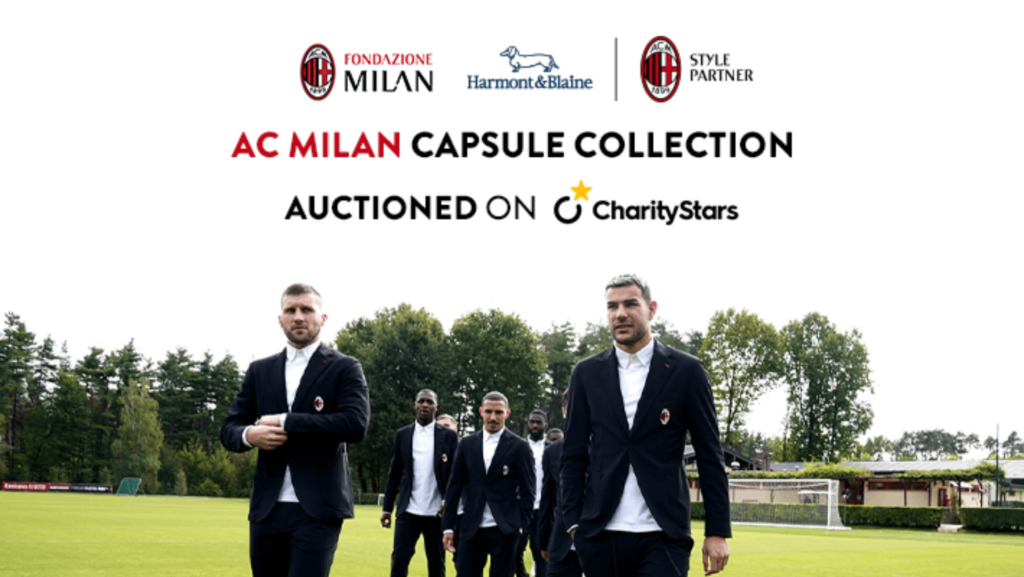 Harmont & Blaine, Official Style Partner of AC Milan, is auctioning the cult pieces of the new capsule collection dedicated to the Rossoneri team on charitystars.com.
The auction will be online from December 6 to 16: the proceeds will support the social projects of Fondazione Milan, the club's public charity that promote through the values of sport a positive life model and that Harmont & Blaine is pleased to support.
Specifically, the support will benefit the Sport for All project, where girls and boys with disabilities can experience the power of sport in an inclusive and tailored context.
For each auction, in addition to the clothing, each lot will be enriched by an AC Milan experience or product, to live even more closely the Rossoneri passion. The short-sleeved pique polo shirt with contrasting red ribbing and AC MILAN logo printed on the undercollar and the t-shirt of the official AC Milan formalwear uniform in ultralight cotton will be both accompanied by an autographed ball; the beanie and the scarf in black wool and cashmere embroidered with red Blaine dachshund and the padded waistcoat will be accompanied by a ticket for a match in which Harmont & Blaine is a sponsor; the turtleneck and crew-neck sweater in wool with dachshund Blaine embroidered and inner label with the official crest, the long-sleeved white polo shirt in pure cotton mako with shirt-style collar and cuffs and the iconic soft toy dachshund Blaine dressed as a Rossoneri mascot will receive an autographed Milan shirt.
Through the online auction, Milan fans will be able to discover and appreciate the elegant, cool and above all conscious Harmont & Blaine style, while supporting the important commitment of Fondazione Milan.