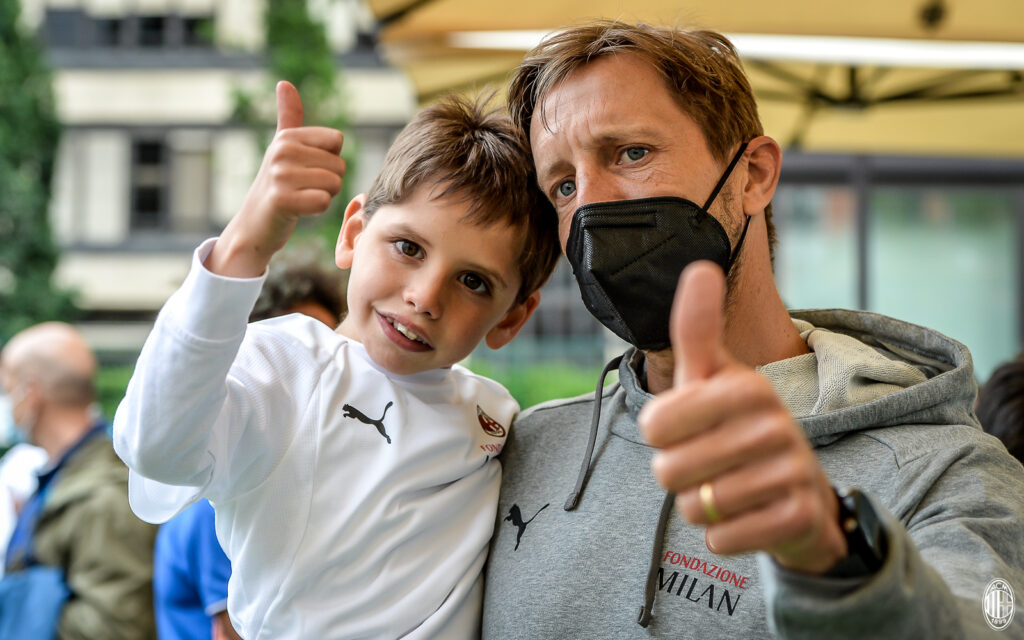 Rossoneri glories and AC Milan womens team meet young people from Sport for All and Sport for Change
On Friday 14 and Monday 17 May, Fondazione Milan visited two sports projects that it supports in the Milan area, to ideally conclude the 2020-21 season.
The first visit was dedicated to the "Sport for All" project that takes place at the Playmore centre in Milan, a sports initiative that is aimed at young people with any type and degree of physical, psychic, sensory and intellectual disability. For the two Rossoneri glories, Massimo Ambrosini and Massimo Oddo, it was the opportunity to meet the children of the project, hand out Milan Foundation shirts and see coaches and athletes in action, during the Multi-Sport hour.
The second visit was to the Kayrós community in Vimodrone (MI), home to minors involved in criminal measures and people from situations of family and social distress, for whom the "Sport for Change" project is active, with the aim of giving these young people the opportunity to enjoy the benefits of sporting activity.
During the "koinè", a moment in the community where people meet and discuss with personalities and professionals from civil society, Laura Fusetti, vice-captain and defender of AC Milan women's team, and Davide Cordone, assistant coach, talked about their experience as football professionals.
The AC Milan player reminded the Kayrós youngsters, telling them about her experience with women's football, that they have to deal with the preconceptions and preclusions of the society in which we live and that it is necessary "to go beyond the judgement of others, to learn to let criticism slide that takes us away from our goals", for which, as coach Cordone says, "commitment and sacrifice" are necessary to be ready.
In the end, emphasises don Claudio Burgio, head of the community, in order to be protagonists of one's own life "it is necessary to enter into reality, having confidence in the future".