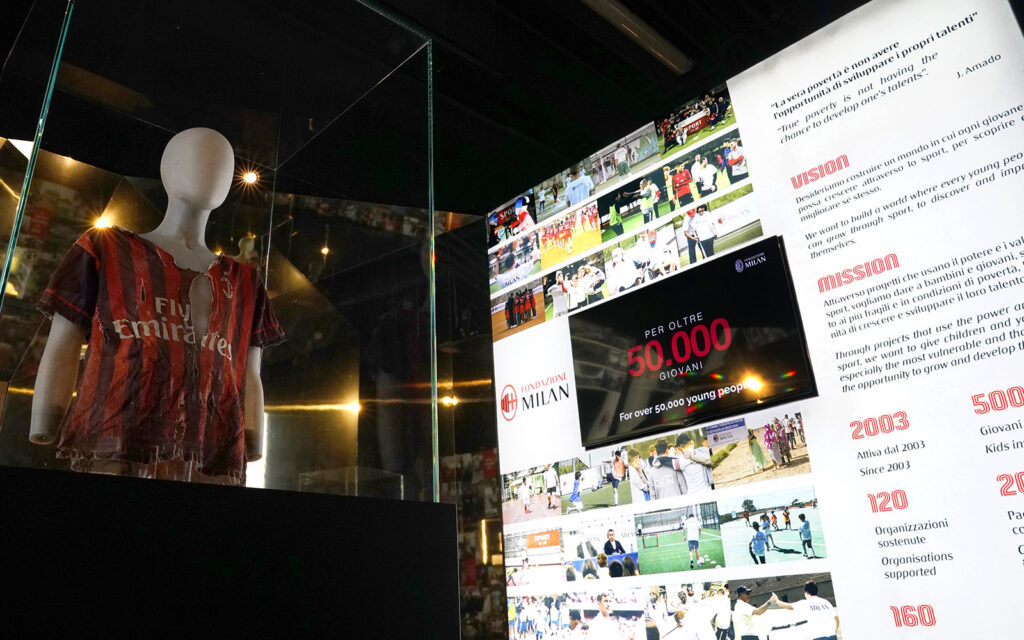 Milan, 16 December 2021 – To mark the Club's 122nd anniversary, AC Milan – via Fondazione Milan – is celebrating its commitment to social responsibility, a key value of the Club, with the announcement of a charity project in collaboration with UNICEF in support of children in South Sudan.
At the heart of the initiative is the journey of a very special Rossoneri jersey from the 2016/17 season with "Balotelli 45" printed on the back. The jersey was discovered and photographed by Danish war photographer Jan Grarup during a trip to South Sudan to document the effects of the severe floods, which have ravaged the country for years, leaving hundreds of thousands of people homeless and without access to food and clean water.
In the village of Canal on the Nile river, the photographer met a young boy wearing an AC Milan jersey that – torn due to wear and tear – had evidently been repaired and stitched together on many occasions. Being an AC Milan fan himself and in admiration of the dedication and passion reflected in a shirt that he dubbed a "work of art", Grarup asked the boy if he could swap his AC Milan jersey for a new one and subsequently donated it to the Club.
The Club immediately accepted the donation as a symbol of the belonging, dedication and passion, which unite Rossoneri fans around the globe, in spite of their age or social status. This passion goes beyond the game overcoming any boundary as the Rossoneri seek to build bridges and promote the healthy values of sport that make up the very DNA of the Club.
As such, from today, this special jersey from South Sudan will be put on display in the Mondo Milan museum at Casa Milan – the Rossoneri's HQ in Milan – in a new exhibition dedicated to the educational and social projects implemented by Fondazione Milan. The exhibition will give visitors the opportunity to donate money for the many initiatives and campaigns – taking place in Italy and abroad – promoted by the Rossoneri's NGO. By virtue of the great care and attention always paid to people and territories in difficulty, AC Milan and Fondazione Milan are proud to be able to raise awareness of the humanitarian crisis in South Sudan and to lend their concrete support – through a donation – to the aid that is being sent to the country by UNICEF, who are actively engaged in guaranteeing all children their right to a childhood.
"I am a football fan deep in my heart," – said Jan Grarup – "and I cannot describe the number of times, I have seen children use football and other games as a distraction from war, famine, disasters, or other catastrophes around the world. Therefore, I am enormously pleased to see a huge club like AC Milan becoming part of this project, raising money towards the victims of the escalating climate crisis in South Sudan and the work UNICEF do to help the local population."
In South Sudan, more than 8.3 million people, including 4.5 million children require humanitarian assistance to meet their basic needs, whilst 56% of children aged 10-14 are involved in child labour. Around 2.8 million children in South Sudan do not have access to education, those that come into conflict with the law are tried as adults and one in two girls is forced into marriage before the age of 18.
Franco Baresi, AC Milan Honorary Vice President and Fondazione Milan Ambassador, commented: "The Rossoneri are one big family, which has always acted in guaranteeing the fundamental rights of people throughout the globe. On the day of the Club's anniversary, rather than receiving gifts, we are immensely happy to be able to give one to those that need it most."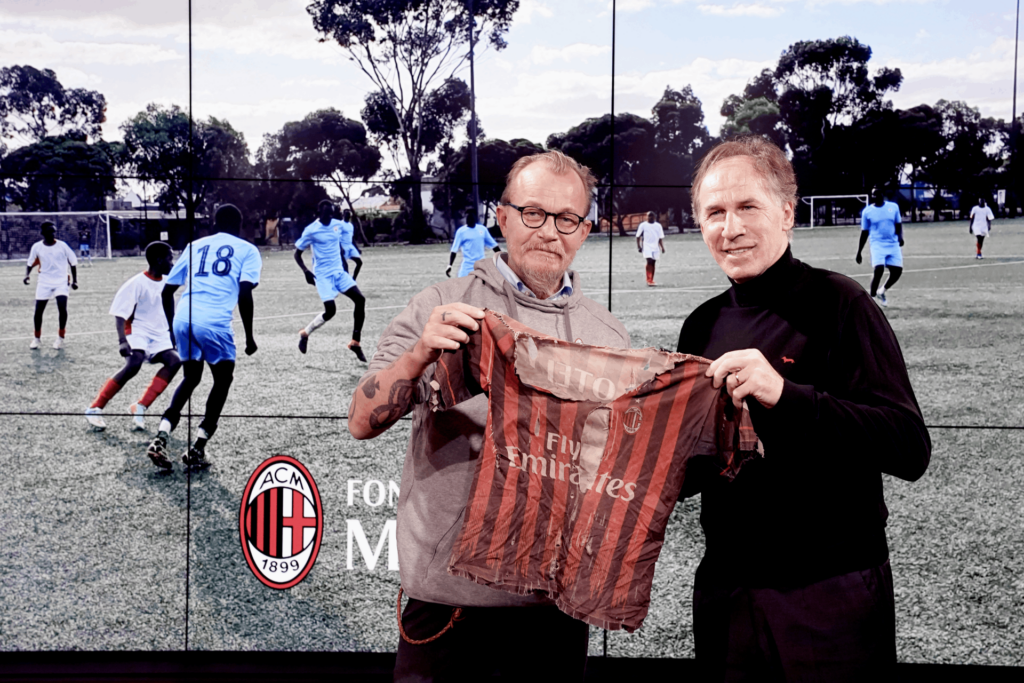 Fondazione Milan General Secretary Rocco Giorgianni added: "For almost 19 years, Fondazione Milan has been active in supporting projects that are focused on driving positive social change and improving the quality of life for people – especially that of children. It is a real honour to be able to inaugurate a dedicated space within the Mondo Milan Museum and to become a part of this Club's history. We thought that telling the story of this jersey belonging to a South Sudanese boy and of the support that we will lend to UNICEF would be the best way to enrich the space with a truly exceptional piece of memorabilia."
As part of this project, AC Milan has worked with My Football Space to create a 3D NFT of this unique and very special AC Milan jersey from South Sudan using a modern and sustainable technology. This emotional digital piece of memorabilia will soon be put on sale, with all proceeds going to charity – a fantastic and innovative way to allow the international Rossoneri fanbase to purchase an exclusive piece of haptic collectible and contribute to a project that aims to drive positive change through the power of the AC Milan brand.