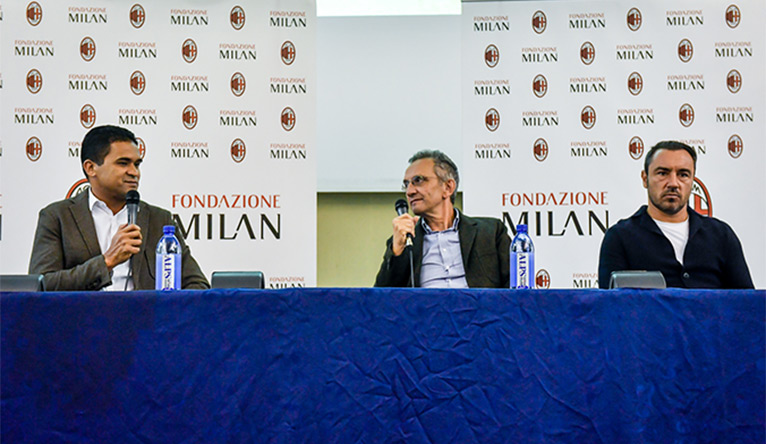 The second meeting of the project included Cristian Brocchi and Serginho as special guests: a report of the event
The event took place at "P. Bottoni" High School of Milan, amidst about 160 youngsters, the second appointment of the "Fondazione Milan in the Community" project, a series of meetings proposed by Fondazione Milan and organised with the support of VITA and with the aim of comparing world sports champions with youngsters.
Two exceptional guests were the speakers at this event: Cristian Brocchi, historic AC Milan midfielder and now Monza head coach, and Serginho, a two-time European champion with the Rossoneri.

Both former players discussed the main theme of the morning, or "The rule", understood as a fundamental prerequisite to integrate as citizens within the community and establish virtuous relationships with other people.
The speakers then continued, also thanks to the questions and curiosity of the students in the classroom, talking about their experiences on and off the pitch and underlining how sports are made up of rules, the same way as in everyday life, fundamental for personal growth, as well as for competitive growth.
This series of events, which began with the first meeting at 'Istituto Comprensivo Luigi Cadorna', with Mattia Caldara and Francesca Vitale taking the floor, was made possible by the success of a previous meeting held last March with the students of the 'Istituto Comprensivo Pareto'.

With these events, Fondazione Milan wants to continue its 10-year-long commitment to the community and, specifically, to projects that use sport to help youngsters develop their talents.