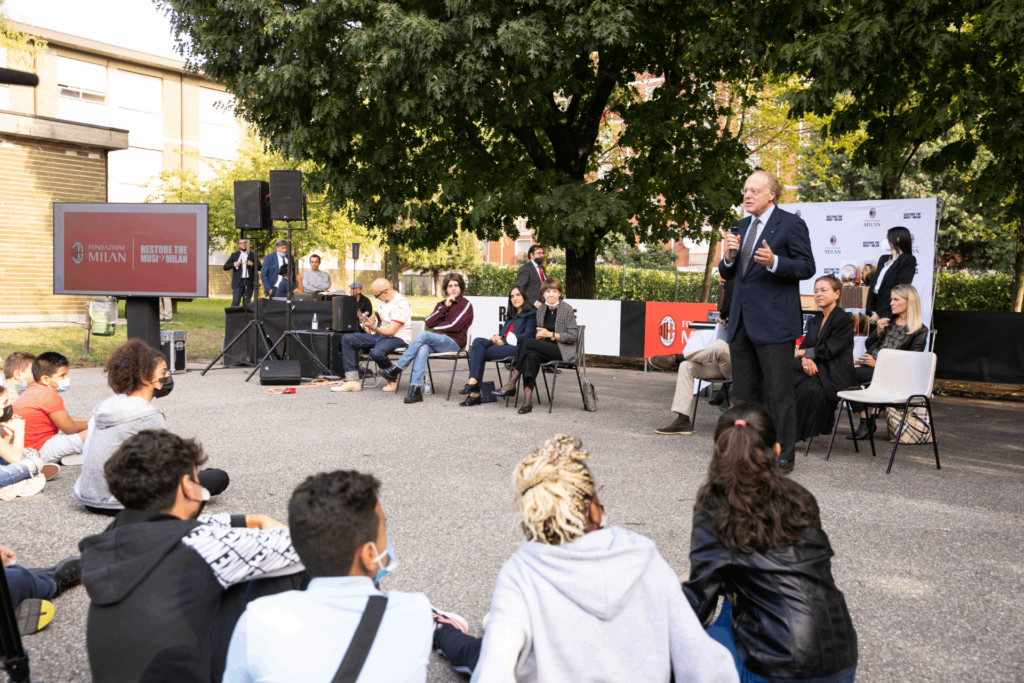 Milan, 29 September 2021 – Fondazione Milan and British charity Restore The Music UK are delighted to launch Restore the Music Milan, a charitable initiative that aims to tackle educational poverty using music and sports.
The project replicates the successful model of Restore The Music UK, a charity founded by Polly Moore and Elliott Managing Partner Gordon Singer, which aims to provide a high-quality musical education to all children, regardless of their socio-economic background.
The initiative is now landing in Italy with the support of AC Milan and the guidance of its charity Fondazione Milan, which has been operating in the country and helping the local community since it was established in 2003. Through this project, music lessons at three primary and secondary schools in the outskirts of Milan will be transformed and enhanced thanks to the donation of a series of musical instruments and an ad hoc training programme. The objective is to help bring music into the lives of more children while also ensuring a high-quality musical education and promoting culture and inclusion.
"Fondazione Milan and Restore The Music UK have entered into this partnership with the same shared values and for the benefit of the community," explained AC Milan and Fondazione President Paolo Scaroni. "Fondazione Milan has always invested in programmes which, through the positive virtues of sport, aim to nurture the talent and passions of younger generations."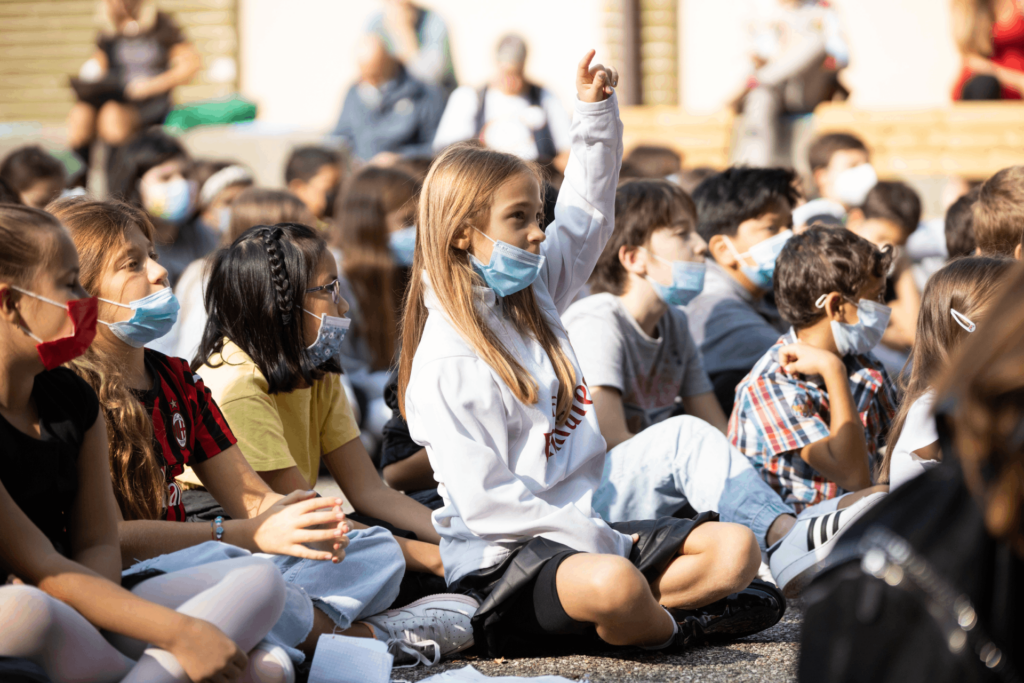 Gordon Singer had already showed closeness to the local community in Milan with a donation from The Gordon and Jenny Singer Foundation to the San Raffaele Hospital during the first Covid-19 lockdown in Italy. Singer shared a comment on the project: "I'm really proud to be here today to launch Restore The Music Milan and build on a valuable collaboration with Fondazione Milan for the benefit of the community, especially during such difficult times. Being a musician myself, music is a great passion of mine, and I firmly believe that receiving a musical education should be a right for every child. Music and football underpin this collaboration: these are two universal languages of the world that have shared values, and both deserve to be experienced and appreciated by all youngsters."
The launch event, which was held today at one of the schools which will benefit from the donation – the Istituto Comprensivo Sant'Ambrogio in Milano – was attended by President Paolo Scaroni, Gordon Singer, Restore The Music CEO Polly Moore, the music artists Rkomi and Saturnino, and, via video message, the singer Emis Killa and AC Milan player Rafeal Leao.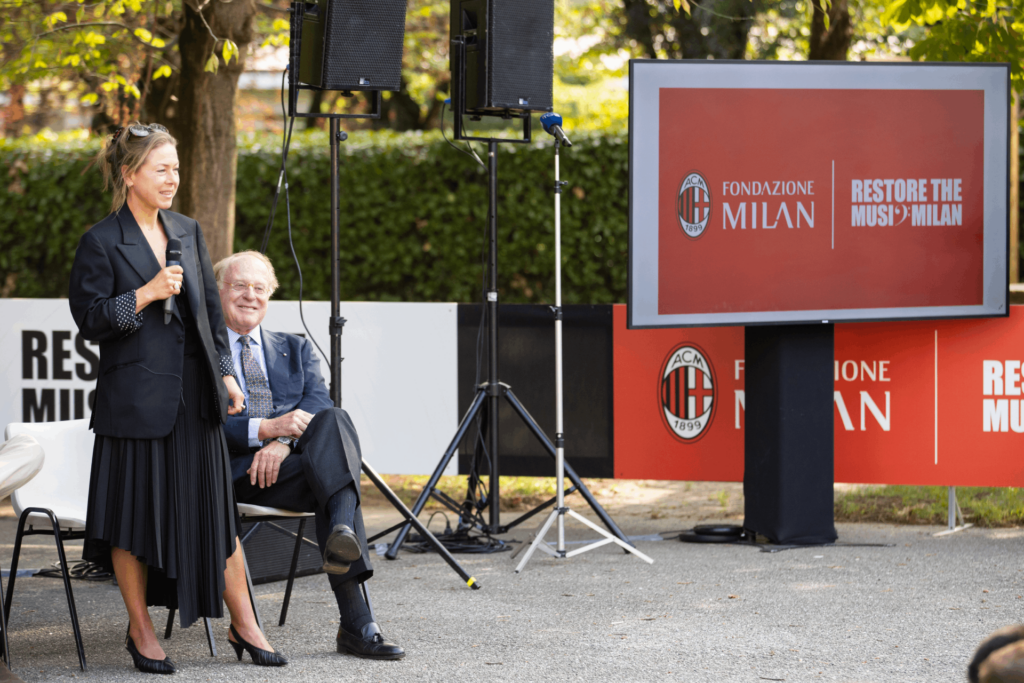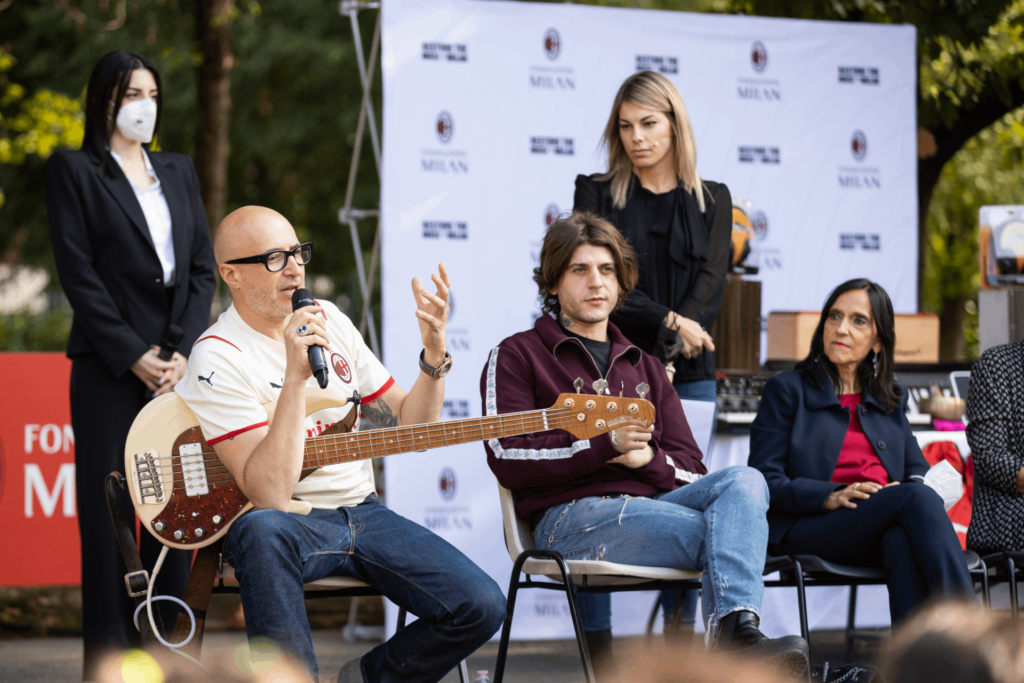 Rafael Leao, a striker for the Rossoneri with a passion for music, who earlier this year release his first rap album called 'Beginning', also commented on the initiative: "I'm truly proud to see my Club involved in such a fantastic project that I am sure will help and inspire all the children involved. Since I was little, I've had two big passions: football and music. Football became my profession, but music remains a part of my life and has helped me in difficult moments. That is why I would like to encourage children of all ages to get closer to music, take up an instrument and let their artistic side shine. I hope to hear the music produced by the girls and boys with the donated instruments soon!"
Restore The Music UK is a London based charity, funding the provision of music to state primary and secondary schools with the aim of providing quality musical education to all children, regardless of their socio-economic background. In the UK 85% of students have given up on music education, with less than 10% taking it as a subject for their GCSE: despite music being arguably one of the most accessible forms of art, continuous funding cuts – affecting public schools in particular – made music education reserved to a privileged few. Hence the urge to bring music back into the lives of children, giving schools and music teachers all the support they need to make sure everyone gets the chance to have fun while also developing comprehension, coordination, and social skills.
Fondazione Milan is AC Milan's charity, founded in 2003 to express solidarity and offer concrete support to children facing different situations of distress, with the aim of fighting poverty, violence and discrimination. Sports has always been a powerful tool to create strong and inclusive communities in which everyone is welcome: our goal is to use sports and its values to give all children – and especially the poorest and most vulnerable ones – the chance to flourish, develop their skills and build a better future for themselves.