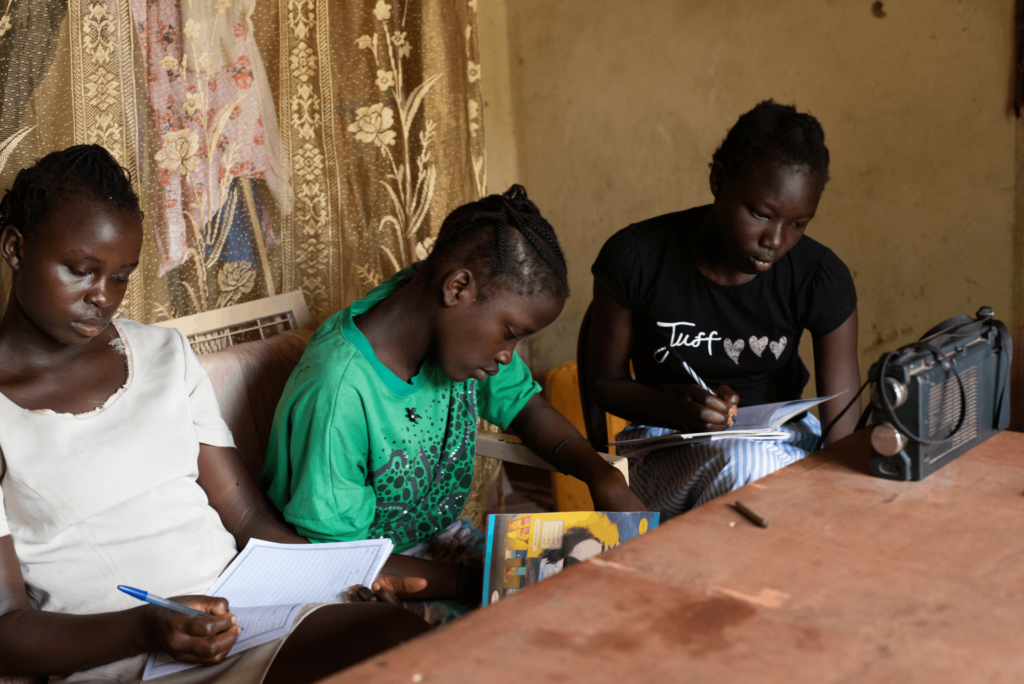 Angures [to the right] is listening to an English lesson on radio together with Christine [in green] who is in primary 6 [In green] and Elizabeth who is also in primary 6.
Angures: "I miss being in school. I miss learning with teachers. It is not always easy to get what the teachers are saying on the radio and sometimes you need more explanations. I miss being with my friends. I don't see my friends that often nowadays. My favourite subjects at school are science, social science and math."
Christine: "I spend much of my days reading. I read stories but I also read textbooks. My favourite subject is science because I want to become a doctor. I'm not sure what kind of doctor yet. I miss my friends and my teachers the most."
Elizabeth Kiden: "I miss my friends a lot, I don't see them that now we are not in school. My favourite subjects are math and English. English is easy to listen to on the radio, math not so much. I want to become an accountant, I like numbers. At home I read novels and I read schoolbooks."
Since 20 March 2020, schools and educational facilities have been closed due to the pandemic and other emergencies that have affected the country in recent years, UNICEF, together with the Ministry of General Education and Education and educational partners including Fondazione Milan, has launched special programmes to enable children to continue learning away from school.
Support the activities of Fondazione Milan and help many children and young people to realize their dreams!