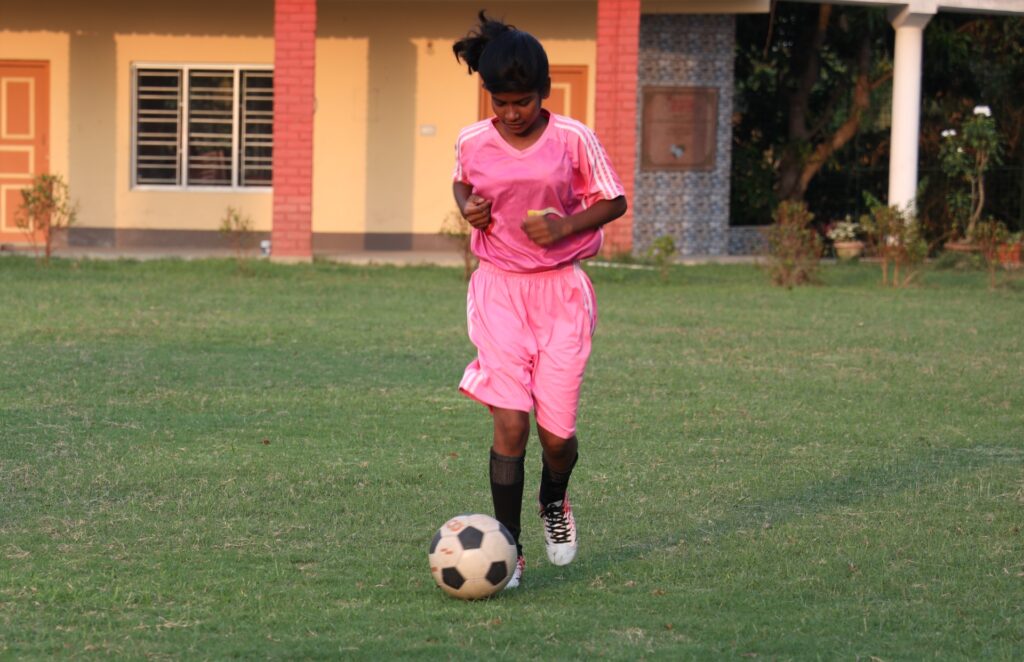 Puja Rani a 13 years old girl with 75% Intellectual disability. She got admission in the Child Care Institute Children's Home, Kathila of Asha Bhavan Centre in 2018 which is supported by Associazione Amici di Dominique Lapierre in Ticino, Switzerland, and, as of this year, also by the Fondazione Milan.
We met Puja at the railway station in Howrah while she was on the run, and together with her, we searched for and found her family. We realised that the difficult situation of her parents did not allow Puja to be properly maintained and nurtured, so she was taken into our centre.
She loves football so that Asha Bhavan Centre provided practice session under the guidance and supervision of a coach.
At present she is studying in class- VIII at Karat Beria High School.  She is good in sports. Puja has potentialities to develop and to become independent in life. She participated in several sports which organized by West Bengal State Government, Special Olympic Bharat. In 2019 she was one of team members of Howrah and the team became the state champion in female Group in 5-A-SIDE football tournament.
Again after 2 year, Special Olympics Bharat organized 5-A-SIDE National Football virtual competitions on 3rd September, 2021. Six athletes from Asha Bhavan Centre participated from West Bengal team. Puja was one of them. West Bengal team got highest score with 1069 points.  Every day she practices 2-3 hours for improving her skill in sports.
Thanks to many supporters, the Fondazione Milan, with its Sport for Change programme, can support the activities of centres like Asha Bhavan and help so many children in need.
Join the team!