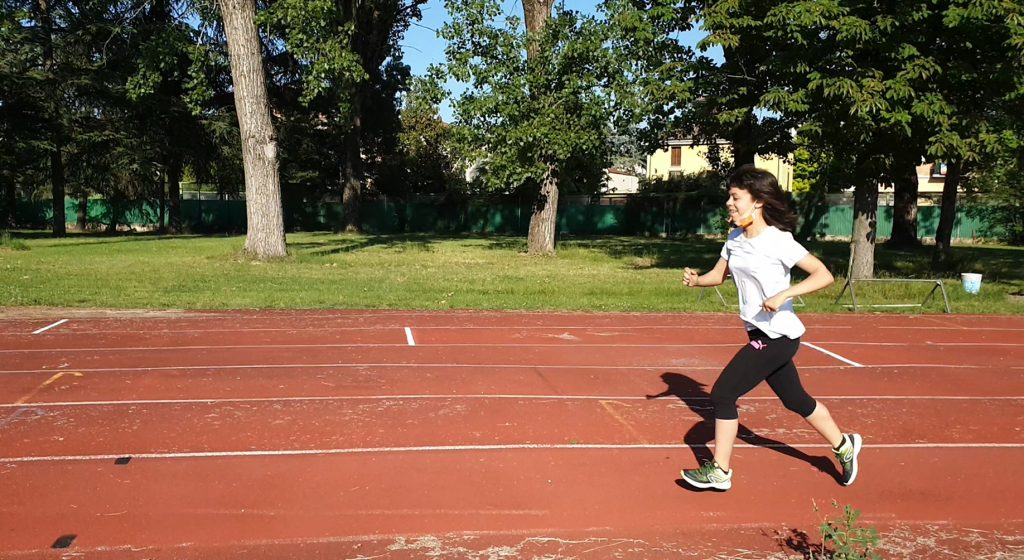 Mia is 16 years old and is a lively, independent and very sociable girl.
She has a rare genetic syndrome, 'Williams syndrome', which fortunately is manifested in a mild way and does not restrict her sporting activity. Mia can jump, run and have fun quite independently, she plays various sports with her classmates.
Thanks to the opportunity introduced with the project "Sport for All" by Fondazione Milan together with the association CSV Emilia and their project All Inclusive Sport, Mia was immediately taken care of by the coach of Atletica Reggio ASD, Elena, and Sara, the tutor.
Her sporting activity was interrupted due to the Covid-19 emergency, but the constant presence of the tutor was truly precious and fundamental for Mia to continue training, at that moment more than ever.
In the park in her neighbourhood, they did athletic exercises together, specifically running and jumping, involving other children and young people in the park, thanks to Mia's sociability.
When the emergency situation improved, Mia returned to playing sport on an ongoing basis and was able to establish a good relationship with her athletic mates, thanks to her energy, and to become part of the group, getting involved and enthusiastic.
The tutor was an important support figure for Mia, both in communication difficulties and in maintaining attention and carrying out the exercises.
During the period of her activities, Mia achieved improvements in both motor and interpersonal skills.
Her experience at Sport for All can only be considered more than positive by her and the entire team of coaches, so much so that Mia is now applying for new, more complex disciplines such as dance. The tutors will let her continue independently with her team, without the need for coaching.
By supporting the Sport for All project you will contribute to giving new sporting opportunities in inclusive contexts and help many young people like Mia!