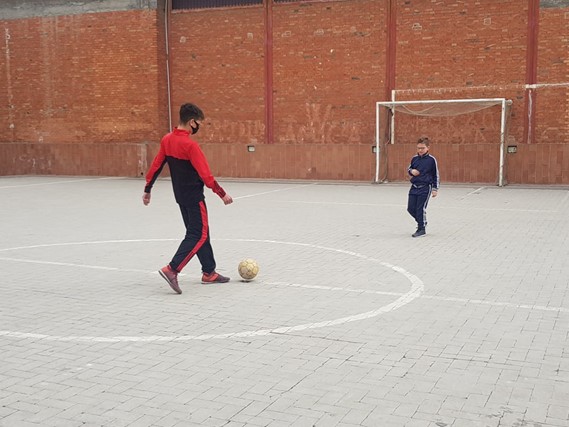 Giuseppe, rebirth through sport!
Today Giuseppe tells us his story:
"I don't like school that much, but since I've been playing football I've learned to respect the rules" he tells us. In Giuseppe's 14 years of age, a phase of "rebellion" develops, which is nurtured by the social context in which he lives.
Thanks to the "Sport for All" project, which teaches how to respect others and how to build concrete goals on a different life path, thanks to sport it is moderated and disciplined: inside those disabilities, very often invisible, of colour who suffer from behaviour and learning disorders, have slight cognitive deficits, autistic spectrum disorders and emotional crises.
In fact, thanks to the project born from the collaboration between Fondazione Milan and Èbbene Foundation, Giuseppe participates in lessons together with his classmates at the Polo Educativo Spazio47.
Giuseppe is tall, with a lean physique and very expressive green eyes. He is gentle as he helps the youngest to dribble on the pitch, and has a protective instinct as he explains the strategies for the new game. Always with a smile and with the knowledge that that court is a new opportunity for growth.
"In the neighbourhood it's not easy to find your own space, a safe place to play without having to fight. Here there are no enemies, we are all one big team," says Giuseppe – of the "Sport for All" project – with a smile on his face. An adversary is not an enemy," he continues to say as he prepares to enter the field.
I used to be grumpy with some of my teammates, but now I play with everyone. I like going to school more because I know I will be able to play: when I am on the pitch I feel strong and less alone.
Everyone should love football," he says, smiling. "That ball saves you from the street and allows you to dream of the best World Cup of your life!
By supporting Giuseppe and the Sport for All project you will be able to fight with us against social discrimination and make inclusion win.