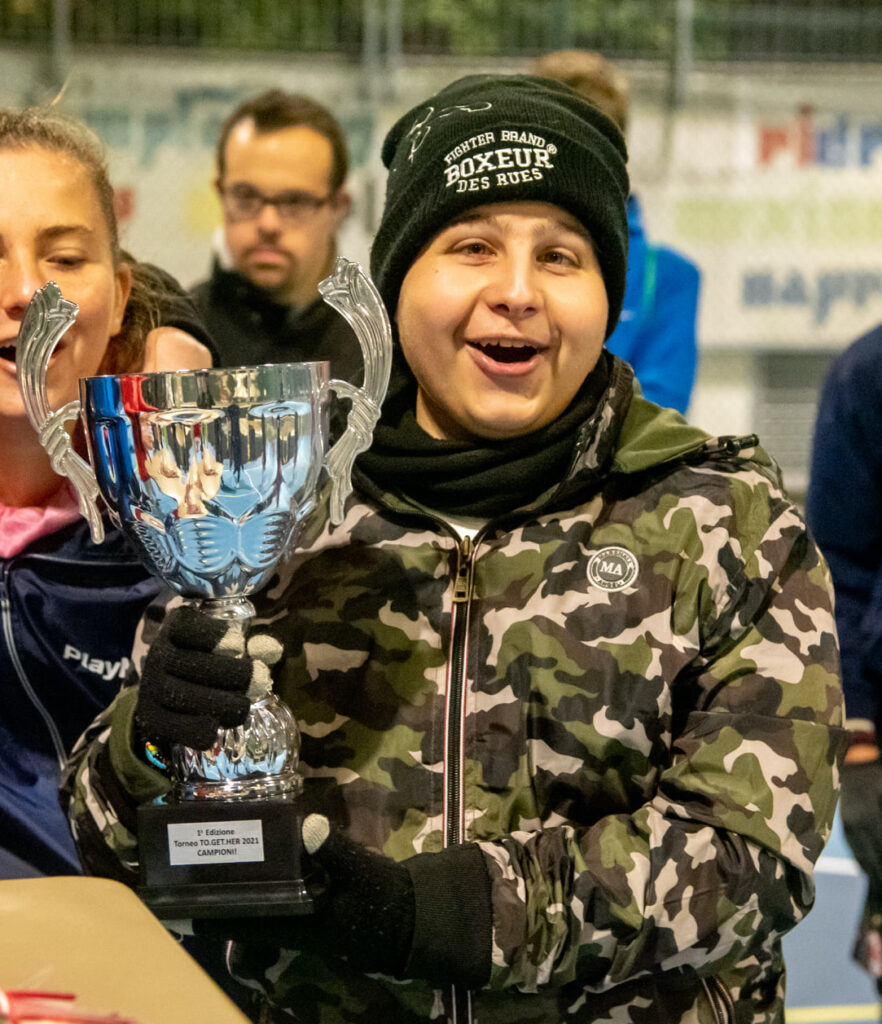 Ale with the cup of the integrated soccer tournament
Ale is a 13-year-old teenager with a great passion, soccer! Following major surgery, he suffered a disability. Ale is a born fighter, he has never given up and his tenacity has produced excellent results.
His parents: "We were looking for a sports association that would allow him to play football in a protected environment and, above all, one that was sensitive and attentive to situations of fragility. After a lot of research and different experiences, thanks to the perseverance and above all to the physiotherapist who followed Ale's rehabilitation path, we came to know about Sport for All courses. As soon as we arrived at PlayMore! we immediately realised that it was the right context to make Ale happy and feel at ease while playing his favourite sport. We found sensitive and knowledgeable people, but above all the inclusive environment we were looking for.
At PlayMore! educators and instructors are always available and ready to stimulate, bringing out the best in these wonderful kids! The volunteers who actively participate in the centre's activities are also indescribably human.
Ale is happy and satisfied with his sporting activities; this winter he took part with his Sport for All teammates in his first Integrated Soccer Tournament with Real Eyes (a team of visually impaired athletes); the team won the tournament and together they decided to give Ale the Tournament Cup, which he now jealously guards in his bedroom.
"The Fondazione Milan and PlayMore! Sport for All courses are simply unique" say Ale's parents. "Everyone is able to express themselves freely according to their abilities in a place where diversity is at home but no one notices! For us, as parents, breathing these feelings is pure oxygen, it helps us to have more confidence in our child's future.
Support Fondazione Milan programmes!