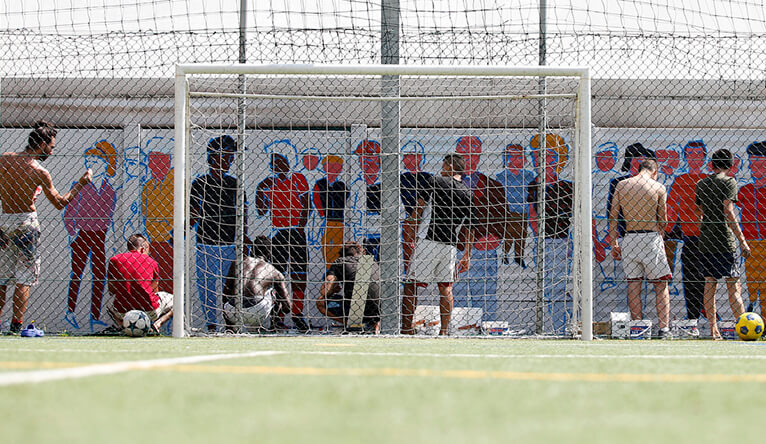 A very special day in Kayros' headquarters for the closing of the season of Fondazione Milan's project Sport for Change
Brushes, buckets full of colorful paint, imagination and joy, were the ingredients that animated the special day at Kayros' offices in Vimodrone to celebrate the end of of this season.
During the last months, the boys followed by don Claudio Burgio, responsible of Kayros Association, participated to a program designed to help them in the social rescue path through twice weekly trainings, because sport and football convey positive values such as the strength of the group, compliance with the rules, as well as regaining trust in others. Alongside the sporting activity, in the second part of the season, the teens, entrusted to the community because in conflict with the law, also took part in a workshop created in collaboration with Artkademy during which they prepared the wall painting project that was then executed.
The boys chose the subject and the words of the wall painting after a path of self-awareness, of group-awareness and consciousness of what they are facing.
And now, on the wall that runs along one of the two short sides of the five-a-side football pitch inside Kayros headquarters, there is a new version of the famous painting "The Fourth Estate " by Pellizza da Volpedo, in which the peasants are the youngsters who took part in the Sport for Change project led by Don Claudio Burgio. Alongside the images, some key words have come to life including: prejudice, welcome, shelter, sport, change, redemption, respect, courage.
Together with the boys, the Sport for Change team and Artkademy, there was also Ivan, the urban poet, who shared his art during this very special day, a moment that closed the season and raised these youngsters' awareness of their human and social value.