The virtual live show by AC MILAN and ROC NATION championing emerging talent hosted by Dj Khaled featuring Mariasole Pollio and Max Brigante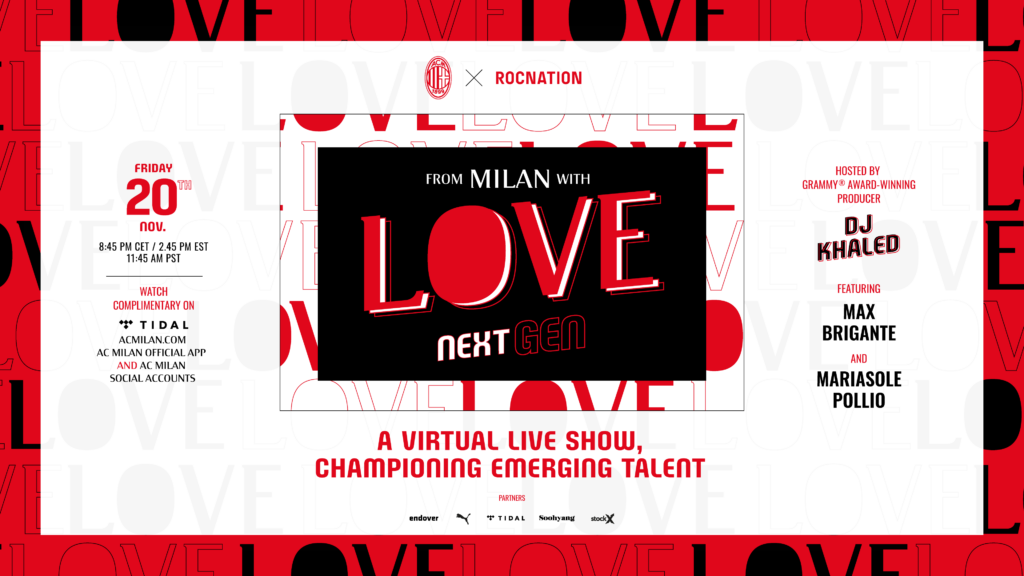 Milan, November 17, 2020 – Everything is ready as 'From Milan with Love Next Gen' the virtual live show created by AC Milan and Roc Nation is fast approaching. The show, which will air for free on AC Milan's App and official social channels and on TIDAL.com, is going to be held on November 20 at 8.45pm and will gather the new generations from all over the world around music, sport and new trends.
The show, hosted by grammy-award winning producer Dj Khaled featuring the young actress Mariasole Pollio and the DJ and radio speaker Max Brigante has been designed to champion young emerging talents and their future.
The virtual stage will also feature Anna, the 17-year- old girl fromLa Spezia, whose super hit "Bando" went platinum and recorded almost 60m streaming plays on all digital platforms and over 34m views on YouTube and Axos the rapper from Milan who is becoming a key player in the Italian rap thanks to his new track "Anima Mundi".
Rounding off the cast, eight talented emerging artists linked from 3 different continents: Bibi from South Korea, Larruso from Ghana, Venvs from Brasil, Alita, Cocoa Sarai, Rezcoast Grizz, Harlor and Daniella Mason from the US.
The music performences will be enhanced by five incredible stories of passion, courage, creativity and talent. These extraordinary journeys from Milan, a long-standing international protagonist of culture and economy, are going to inspire the whole world as these young women and men have fulfilled their dreams and built their future. Lavinia Franco and Marco Battaglia, pastry chefs and owners of Marlà, one of the best pastry shops in Milan. Or Nausicaa dell'Orto, the 25-year-old Milanese girl who talks about America's most loved sport, football, from behind a camera, as a screenwriter for NFL Films in Philadelphia. Among the young protagonists, also Chiara Schettino: world-renowned startupper who found her way working in the social sector and who has recently developed a system to diagnose the Covid-19 through vocal emissions. Guests of the show also young talents from MAS (Music, Arts & Show): the Italian long-standing center of excellence for aspiring artists and Bianca Felicori a young researcher and architect, editor of Artribune, Elle Decor and Domusweb.
During the event the young women and men from Kayròs, the community led by Don Burgio in Vimodrone and backed by Fondazione Milan, are going to portray their stories of social redemption: a concrete example of how much "sport changes life."
And finally video appearances will be made by key names across the AC Milan family, including members of women's and men's senior squads who will talk about inclusion, diversity, talent and future: Ismaël Bennacer, Theo Hernàndez, Daniel Maldini, Rafael Leão; Valentina Giaciniti, Valentina Bergamaschi e Refiloe Jane.
"From Milan with Love Next Gen" perfectly embodies the Club's vision and strong commitment to developing the next generation of talents, on and off the pitch. Currently, AC Milan has the youngest team in Europe's top five leagues with the average player age under 25yo, and strongly believes in the power of diversity and inclusiveness – AC Milan Senior men and women's squads are made up of 23 nationalities.
To watch the virtual live event:
#FromMilanWithLove