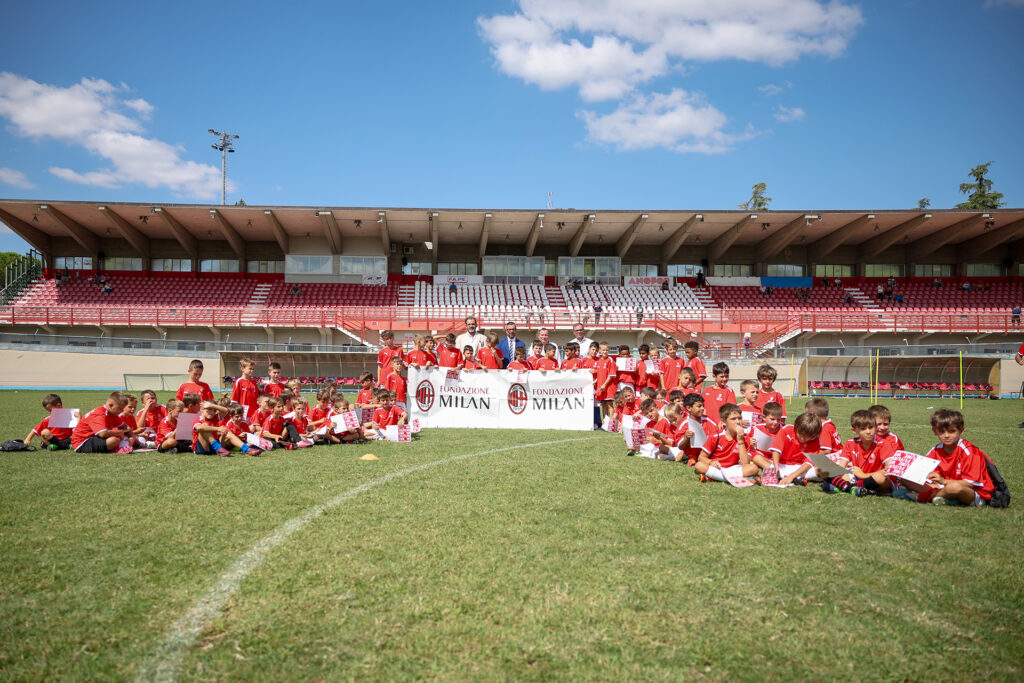 Milan, September 6th 2023 – Aware of representing a vast social community that unites over 500 million fans all over the world, AC Milan and Fondazione Milan have always demonstrated their constant attention and care for large social issues and crises in Italy and all around the world: from Milan to Afghanistan, from Lebanon to Ukraine and now the recently flood-stricken areas of Romagna.
It is in Romagna, and more precisely at the Tullo Morgagni stadium in Forlì, that the 'Fondazione Milan for Romagna' special camp kicks off, a sporting experience of fun and training led by AC Milan Academy technicians. For the whole week, in collaboration with Forlì FC and the Municipality of Forlì – and with the contribution of PUMA, Principal Partner of the Rossoneri Club – Fondazione Milan wanted to give 160 children aged between 6 and 11 years and enrolled in local sports associations, a moment of leisure, togetherness, growth and light-heartedness following difficult months due to the crisis in May.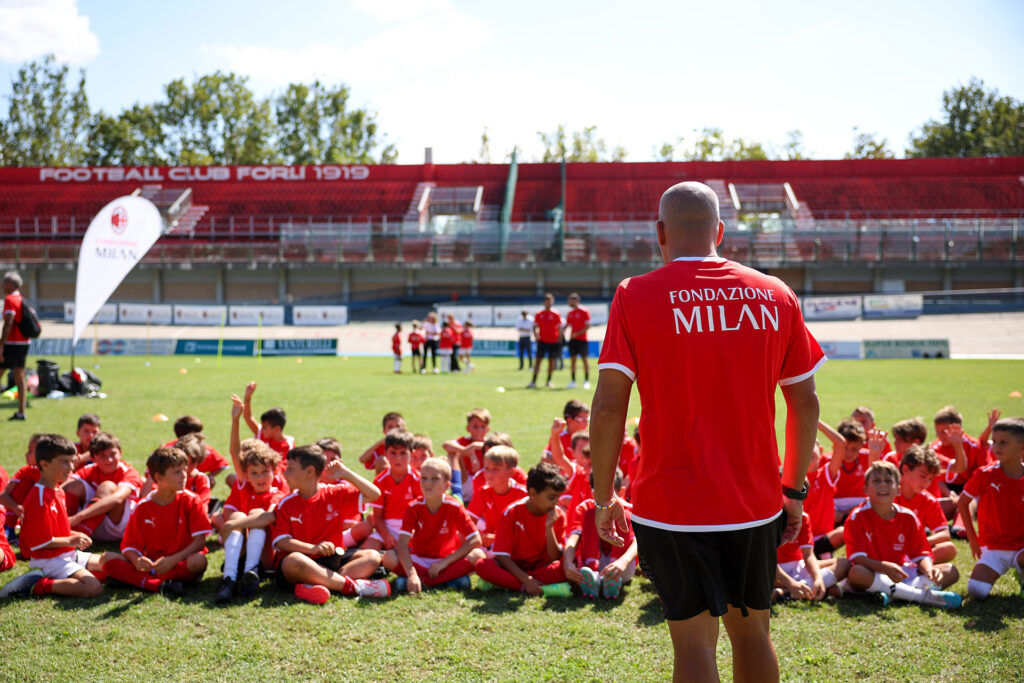 Over the course of yesterday, Daniele Mezzacapo, Deputy Mayor of Forlì with responsibility for Sport, Rocco Giorganni, the Secretary General of Fondazione Milan and Gianfranco Cappelli, President of Forlì FC visited the children and presented them with certificates of participation and officially join this Rossonero sporting festival.
Rocco Giorgianni, Secretary General of Fondazione Milan said: "From the very beginning of the flooding, we joined with the people affected, showing our closeness and seeking methods of intervention in line with the Fondazione Milan's mission. As we have previously done in emergency situations, such as in Amatrice (RI) after the earthquake, this Special Camp is the perfect opportunity to share our support with the young people of Forlì. During this week, thanks to the collaboration of our staff and coaches from the Milan Academy, we want to offer children and young people some joyous and fun experiences in Rossonero."
Daniele Mezzacapo, Deputy Mayor of Forlì with responsibility for Sport: "The decision by AC Milan and Fondazione Milan to organise this Special Camp at the Tullo Morgagni Stadium deserves a great expression of gratitude on our part. Firstly because it is the result of a beautiful thought of closeness and solidarity that they developed in the most dramatic hours of the floods and aimed in particular at children. In those moments, the clubs with the Rossoneri colours thought about how they could be close to the territory and thought of proposing a moment of aggregation, training, health and friendship by bringing in skills, organisation and blazon. And so, for 160 youngsters from Romagna, the opportunity of the Special Camp will be an unforgettable moment that will contribute to elaborating on a hard and complex experience that has shaken our territory. Thanks to Fondazione Milan and AC Milan for this wonderful initiative. To all the young players and their families a hug from the Forlì community, which entrusts them with the task of being exemplary witnesses of commitment and fair play."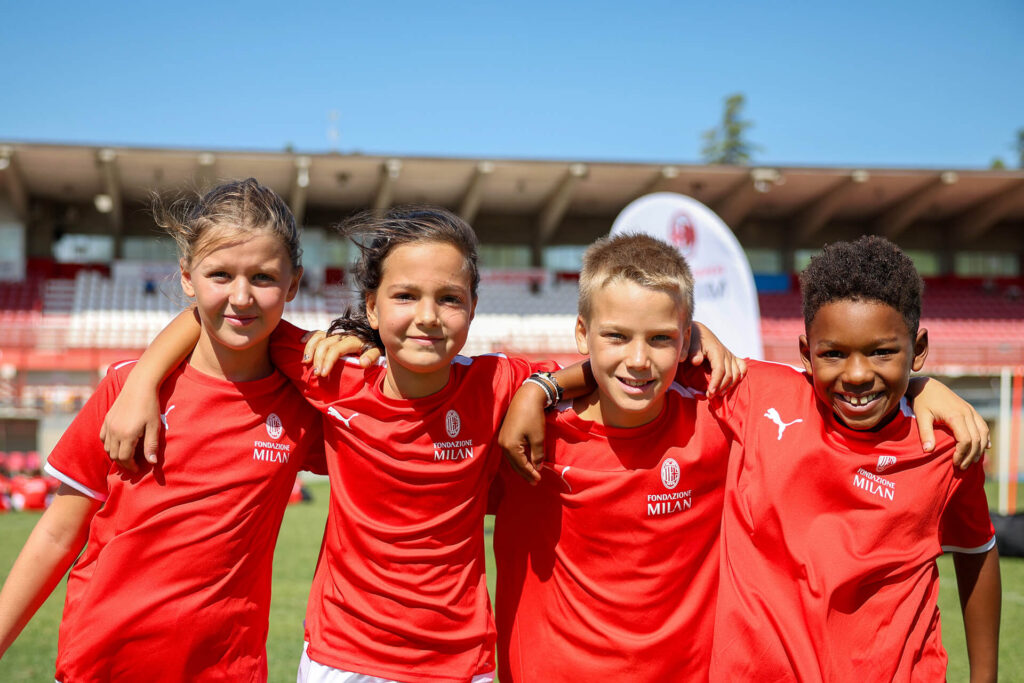 Gianfranco Cappelli, President of Forlì FC, added: "We developed this wonderful project together to offer a week of fun at the Stadium for 160 children who have lived through one of the most difficult periods in the history of our region. Today's event and those to follow are another important sign of recovery for our city, which has suffered so much from the flooding. Seeing so many children rush to sign up and now on the turf of the 'Morgagni' fills us with joy. So I want to thank the Fondazione Milan for thinking of us and I thank all those who have been involved in the realisation of this project."
The Rossoneri family's commitment to the people of Romagna does not end here. AC Milan and Fondazione Milan, together with AC Monza, used the special jerseys worn for the first Trofeo Silvio Berlusconi to launch a charity auction. The proceeds will be used to restore a training field and a playing field for AC Solarolo, a sports club in the province of Ravenna that has around 100 members, including 80 boys from the youth sector.