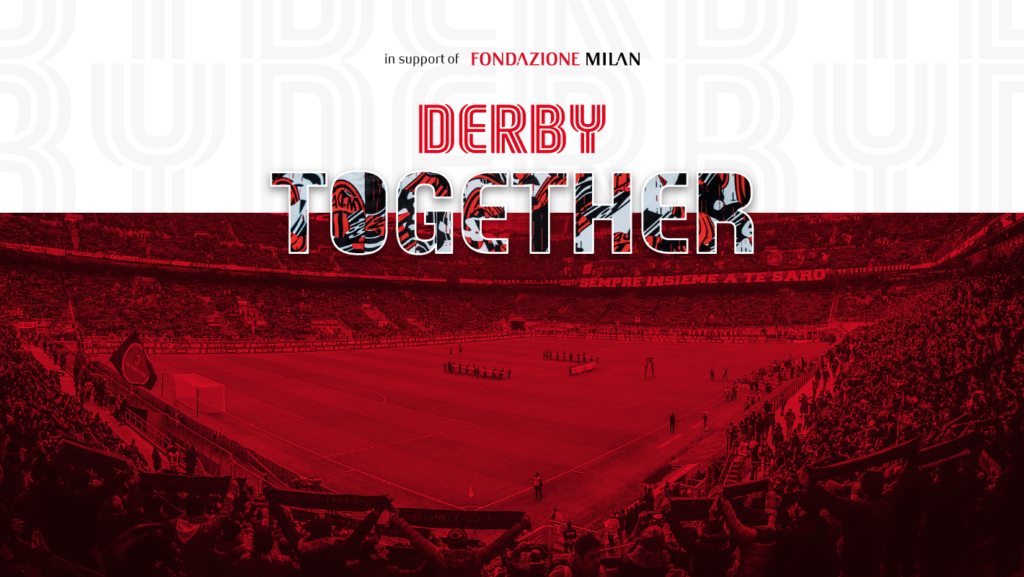 The 228th Derby di Milano is approaching and AC Milan fans across the world can already feel the adrenaline and the excitement of the highly-anticipated game scheduled for Sunday, February 21st at 3 pm.
For obvious reasons, this will be a different Derby. The spectacular crowd of the San Siro stadium will not be on the stands making the atmosphere incandescent throughout the game.
The Covid-19 pandemic has upset everyone's lives, but for the next Milan derby, the passion of AC Milan fans across the globe will still be able to make a difference. With the Derby Together initiative, AC Milan is calling on its over 500 million supporters around the world to virtually fill up the San Siro stadium. Fans will be able to purchase personalized Virtual tickets for the match and have the opportunity to win many prizes and experience. More importantly, the initiative will contribute to the "Assist" project by Fondazione Milan, which aims to support the most vulnerable affected by the social and economic impact of the pandemic.
Franco Baresi, Honorary Vice President of AC Milan, said: "The Derby Together initiative is a great opportunity for the Club to be closer to our fans and to the community ahead of the Derby. However, more importantly it is going to provide a solid help to the weakest affected by the pandemic. Football is a team game and AC Milan is ready to stand alongside its supporters and to play our part together."
It's easy to be a major player in the next virtual Derby. All fans can register on MyMilan, browse the stadium map, choose a sector, row and seat and buy their Virtual ticket, before receiving the exclusive Derby Pack directly at home, composed by a personalised commemorative ticket in digital format, a thank you card and a special edition AC Milan keyring. The contest is open from February 11 to February 22 with over 200 prizes up for grabs, including shirts worn by the Rossoneri players during AC Milan v Inter Milan, a flight to Dubai offered by Emirates, PUMA Gift Cards, virtual Meet&Greet with AC Milan Glories and many other gifts.
The proceeds raised through the Derby Together initiative will be donated to Fondazione Milan for its "Assist" project, an initiative through which the Rossoneri non-profit charity organisation is supporting several initiatives addressed to the weakest that are facing even more difficulties due to the health emergency and the economic crisis. This project includes the building of a disctict hub against food waste in Milan where food surpluses are going to be collected and redistributed with an eye to the needs of children from 0 to 6 years old.
Rocco Giorgianni, Fondazione Milan General Secretary, said: "Fondazione Milan is committed every day to support the community, with a special focus on the most vulnerable and the weakest. The proceeds of the Derby Together initiative will be allocated to the development of a district hub against food waste that is part of the Assist project thus offering tangible assistance to families facing economic herdships ."