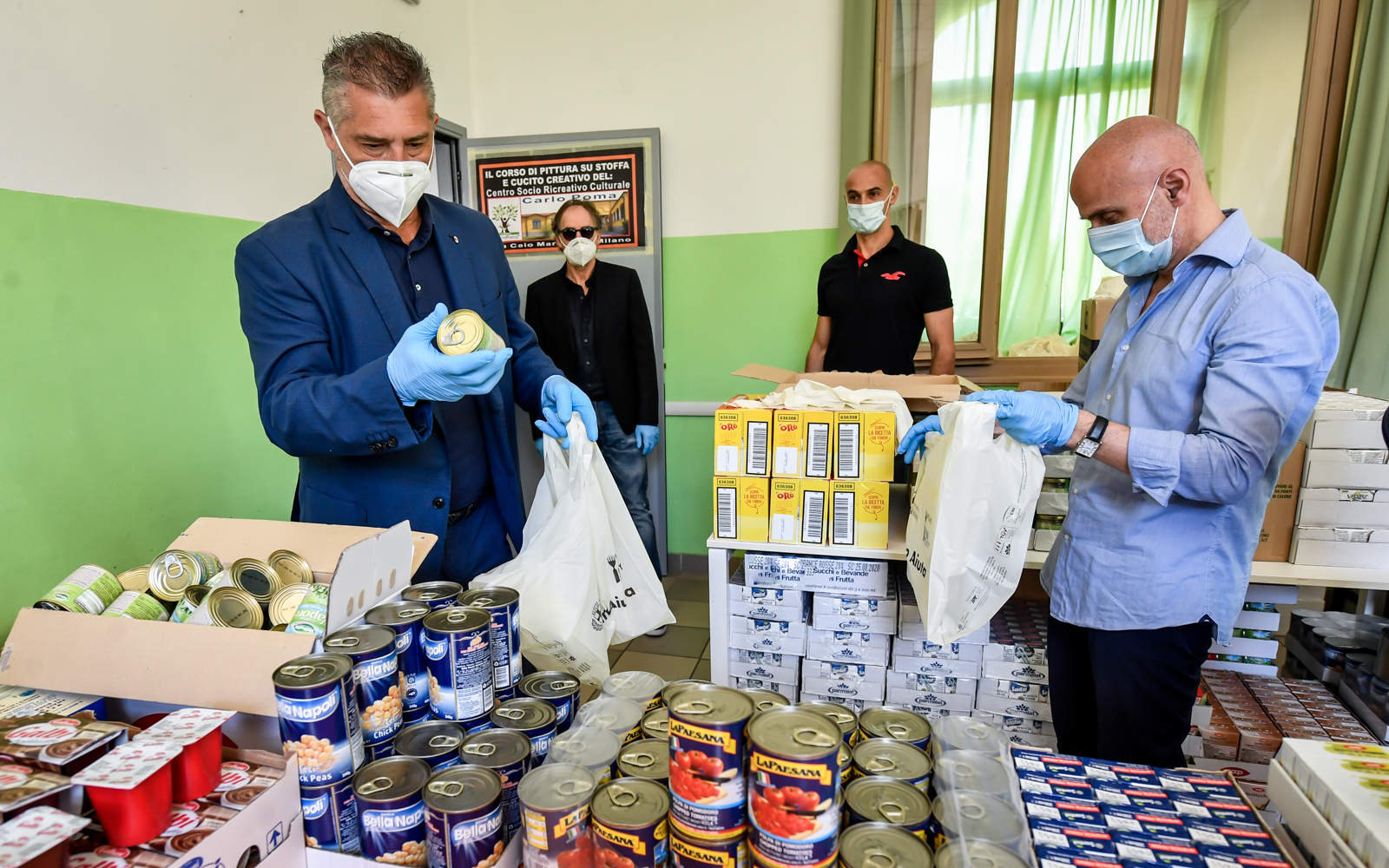 Fondazione Milan supports the project of the Municipality of Milan through a fundraiser
Milan, May 29, 2020 –Fondazione Milan continues to support the project Dispositivo di Aiuto Alimentare launched by the Municipality of Milan for the elderly and the weakest families. The fundraiser, launched a few days ago, has already collected over €57.000 and the target is to reach at least €100.000. Donations are used to purchase foodstuffs to be made available to distribution hubs.
This morning, a delegation of the Rossoneri non-profit organization including the legendary captain Franco Baresi and the top champion, together with Milan's deputy mayor with responsibility for the Food Policy Anna Scavuzzo, visited hub 7, one of the ten hubs of the Dispositivo di Aiuto Alimentare located throughout the city.
Baresi and Massaro greeted all the people who are working to give a little relief to those who are experiencing difficulties. At the same time, they witnessed the different phases of the activities taking place in the hubs: from the arrival of foodstuffs such as fruit, vegetables, pasta, rice, tuna, legumes, to the preparation of the food boxes up to the delivery of the boxes to the recipients.
The project Dispositivo di Aiuto Alimentare, arranged by the Municipality of Milan and supported by Fondazione Milan and many other partners, involves more than 16.000 people in addition to the many other volunteers and employees of the municipality whose aim is to deliver about 5 thousand food boxes per week amounting to a total of 60 tons of food delivered.
Franco Baresi and Daniele Massaro said: "We are very glad we were able to visit this hub and it was great to see the volunteers' huge commitment to help those in need. They are the real champions together with all the people who have donated even a small sum to achieve a great goal. This emergency was not only medical, but also economic and unfortunately some people have faced some difficulties in buying food. This project is undoubtedly a worthy project and we are proud to be part of it together with Fondazione Milan".
"The solidarity shown by all the Milanese citizens in this complicated period is once again a sign of the willingness to team up and to collaborate for the good of the community – said Deputy Mayor Anna Scavuzzo -. Women and men have been working every day for over two months in this hub and in all the other hubs throughout the city to respond to the needs of many families: we are very proud of the presence and support of Fondazione Milan and of these two great champions. I wish to thank everyone for their generosity towards our Municipality's project". We can all continue to support the Dispositivo di Aiuto Alimentare through Fondazione Milan's link: