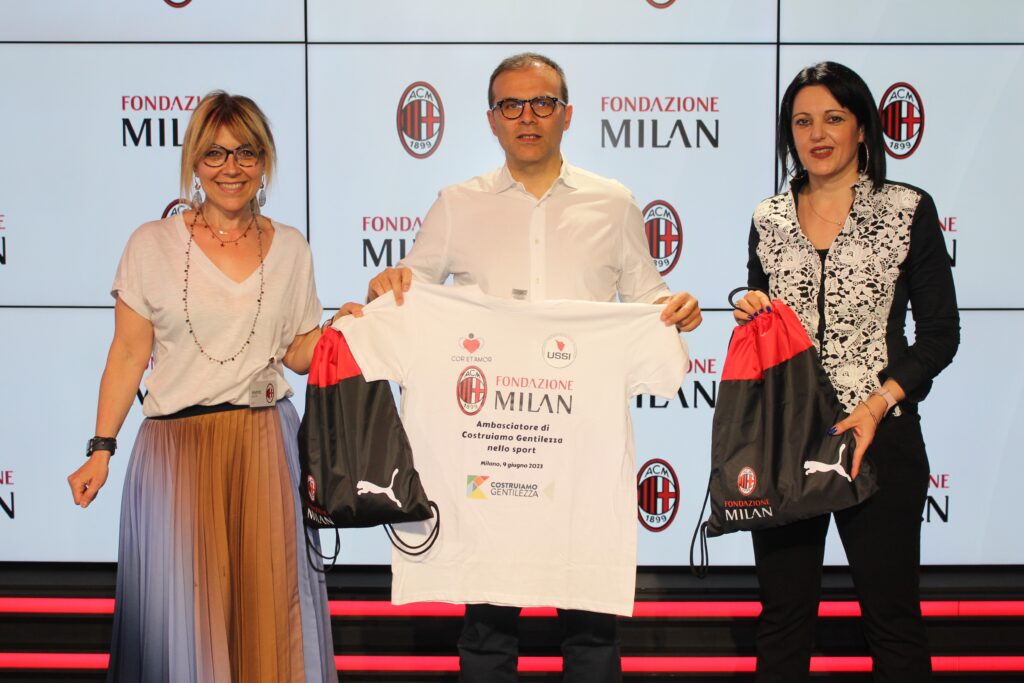 Milan, June 9, 2023 – The "Building Kindness in Sport" award, which promotes kindness through sports, has been presented to Fondazione Milan for its commitment to promoting accessibility to sports for all, providing educational and social support to meet the needs of the community both in emergency situations and in everyday life.
The "Building Kindness in Sport" award was presented to Rocco Giorgianni, Secretary General of Fondazione Milan, at the Casa Milan headquarters, by Ambassadors Silvia Sardi, journalist and sports manager from Brescia of Onesporter, and Gaia Simonetti, ambassador of the national project "Building Kindness."
This year, the Rossoneri foundation celebrated its 20th anniversary and, since its establishment, has carried out over 230 projects, donated over 12 million euros, and developed structured initiatives alongside 170 organizations in Milan, Italy, and 23 other countries worldwide.
The award, created by the Gruppo Giornalisti Sportivi Toscana and the Cor et Amor Association, which brings together a team of over 2,000 kindness ambassadors (including kindness coaches, kindness doctors, and kindness entrepreneurs), was inspired by the heartwarming gesture of Guglielmo Vicario, goalkeeper of Empoli, who in March 2022 welcomed and hosted a family fleeing from the atrocities of war.
In its first 12 months of existence, the recognition for commitment to social causes through sports was awarded to Stefano Pioli, coach of AC Milan, Federica Cappelletti, wife of the unforgettable 1982 World Cup champion Paolo Rossi, Anna Astori, mother of Davide, Manuel Pasqual, the 3Team Asd Brescia Calcio Femminile, the first women's football team to receive this award in Italy, and little Nina, a basketball athlete from Bolzano, who organized a fundraising campaign among family and friends to buy back the stolen basketballs.
This year, the "Building Kindness in Sport" award has also included the "Kindness Alphabet" project, conceived by Gaia Simonetti, which involves compiling the alphabet with beautiful words that make both the writer and the recipient feel good in all languages of the world. It has generated over 25,000 words of kindness written by children. The alphabet, which will soon become an e-book of kindness, is a commitment with words that translate into concrete acts of kindness on and off the field.
In the sports field, Silvia Salis, Deputy President Vicario of CONI, Feralpisalò, Perugia Calcio, and the list of clubs joining is growing every day, have all contributed to the "Kindness Alphabet."