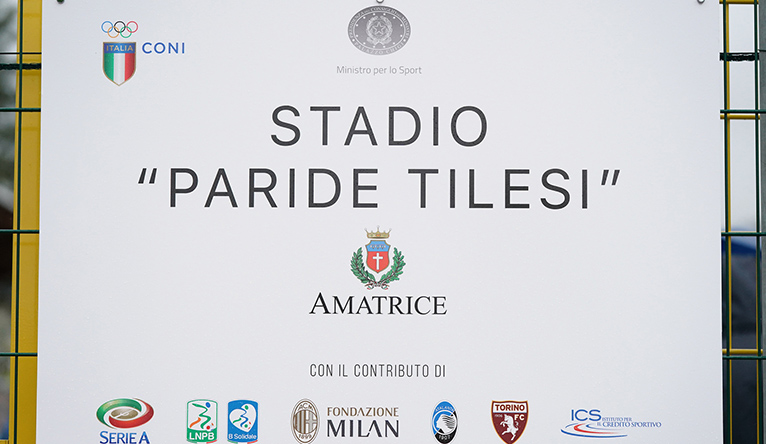 Baresi at the inauguration of "Paride Tilesi" stadium in Amatrice rebuilt with the contribution of Fondazione Milan
Today in Amatrice another small step to go back to normal has been made. The world of sport has scored a new and important goal. Fondazione Milan, together with Atalanta, Torino, Lega Serie A, Istituto per il Credito Sportivo – with the contribution of the Council of Ministers, Sports Office, and CONI – gave back to the community, through Trust B Solidale Onlus, the stadium "Paride Tilesi" completely renovated.
The inauguration, that took place this morning in Amatrice's sports ground, was attended by the representatives of the organizations involved, by Minister for Sport Luca Lotti, by the Mayor of Amatrice Sergio Pirozzi and above all by the citizens of the village in Lazio region hit by 2016 earthquakes, like many other municipalities in Center Italy.
Fondazione Milan immediately acted with a fundraising to be allocated to the reconstruction. The president of the non-profit organization, Barbara Berlusconi, commented: "The problems that Amatrice has to face are enormous. There is still work to be done, but today's inauguration has, above all, a symbolic value. Hope restarts from Amatrice, even with a simple football pitch. Fondazione Milan will always be close to these extraordinary populations who never give up".
Thanks to our supporters and to Fondazione Atlante, which joined the initiative, Rossoneri's non-profit organization contributed to the stadium renovation project. "Reactivating places of aggregation is essential for a community" said Franco Baresi, who was present at the inauguration of the stadium. "It is from these places that we have to start again and it was an honour to participate in this project together with other subjects to give a practical support to the areas hit by the earthquake. We were all touched by what happened in Central Italy and the response of sports world was immediate because sport is able to bring people together".
During the inauguration, there was the official announcement about a camp that will take place inside the sports facility organized by Fondazione Milan in June. An activity that will involve the children and the young people of Amatrice and surrounding areas. Young footballers will be able to have fun and to play football under the watchful eyes of Rossoneri's coaches.
Fondazione Milan also contributed to two other projects: the building of two kindergartens, one in Eggi near Spoleto and one in Pieve Torina in the province of Macerata that will be inaugurated in the coming weeks. Going back to normal is a long journey but it is a great victory we can achieve all together.