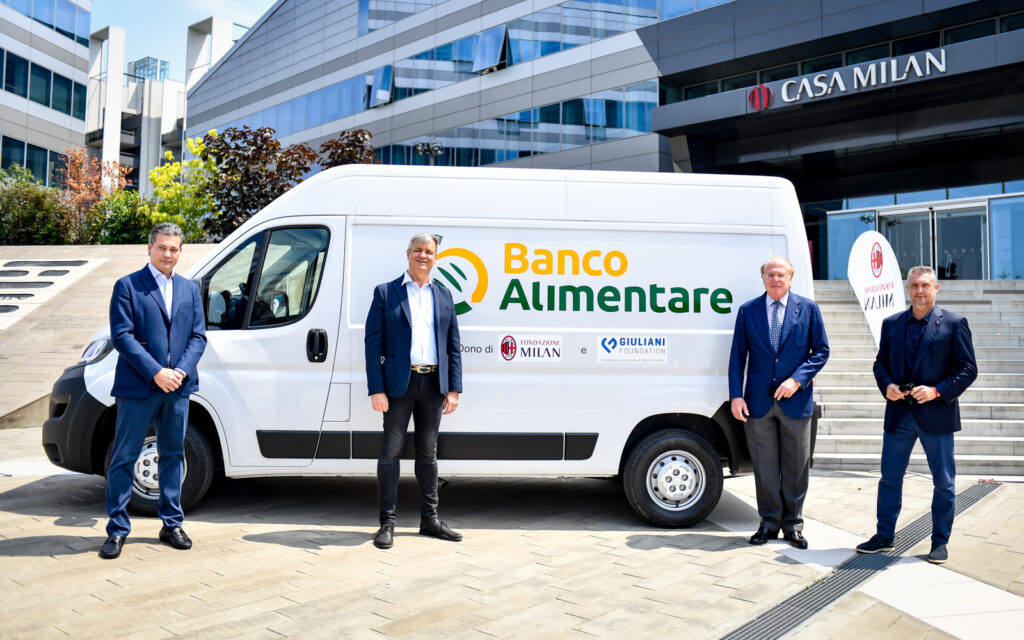 Fondazione Milan and Giuliani Foundation donate a food delivery van to the Lombardy Food Bank Association
Milan, June 25th 2020 – The Lombardy Food Bank Association now has a new van for the delivery of food to an unfortunately steadily increasing number of families in need due to the Covid-19 emergency in Milan and in Lombardy.
The van, completely insulated and set up for the transport of fresh food, was presented by the Chairman of Fondazione Milan Paolo Scaroni and by the Chairman of Giuliani Foundation (àlias Fondazione Giammaria e Sabrina Giuliani) Giammaria Giuliani to Marco Magnelli Director of the Lombardy Food Bank Association just outside Casa Milan. The generosity of the many Rossoneri fans and supporters, who joined the fundraiser launched by Fondazione Milan, and the support of the Giuliani Foundation were key for the donation.
"We are proud to donate to the Food Bank Association this new fully equipped fresh food delivery van – said the Chairman of Fondazione Milan, Paolo Scaroni – We want to be right there, alongside those who are operating on the territory and who are bringing crucial relief in a period of uncertainly and difficulty. This pandemic has affected the territory at a health, social and economic level without distinction. After the important donations to AREU for the health emergency and to the Dispositivo di Aiuto Alimentare of the Municipality of Milan, today we are side by side with the Food Bank whose commitment is remarkable. No one will be left behind, and I wish to thank Giuliani Foundation that stands alongside us in this project."
"Giuliani Foundation, that operates globally and supports all those in need, especially at a healthcare level, is very pleased to share this concrete action with Fondazione Milan in favour of people and families even more in need during the pandemic – said the Chairman of the Giuliani Foundation, Giammaria Giuliani – The new van we donated today is going to improve the already widespread distribution network of the Food Bank, making their long-standing commitment to the territory even more effective."
"We are very grateful to Fondazione Milan and Giuliani Foundation for such an important gift – said the Chairman of the Lombardy Food Bank, Dario Boggio Marzet. A concrete gesture that is crucial for the continuity of our mission to respond to food needs; a demand that has grown even more as a result of the Covid-19 emergency which has seriously affected the city of Milan and the whole region."
This initiative is in addition to the other projects developed by Fondazione Milan related to the Phase 2 and comes just a few days after the fundraiser launched to support the "Dispositivo di Aiuto Alimentare". The project, fostered by the Municipality of Milan, provides for the distribution of food to the people most in need and Lombardy's Food Bank is one of the partners.
We can all continue to support Fondazione Milan's commitment: