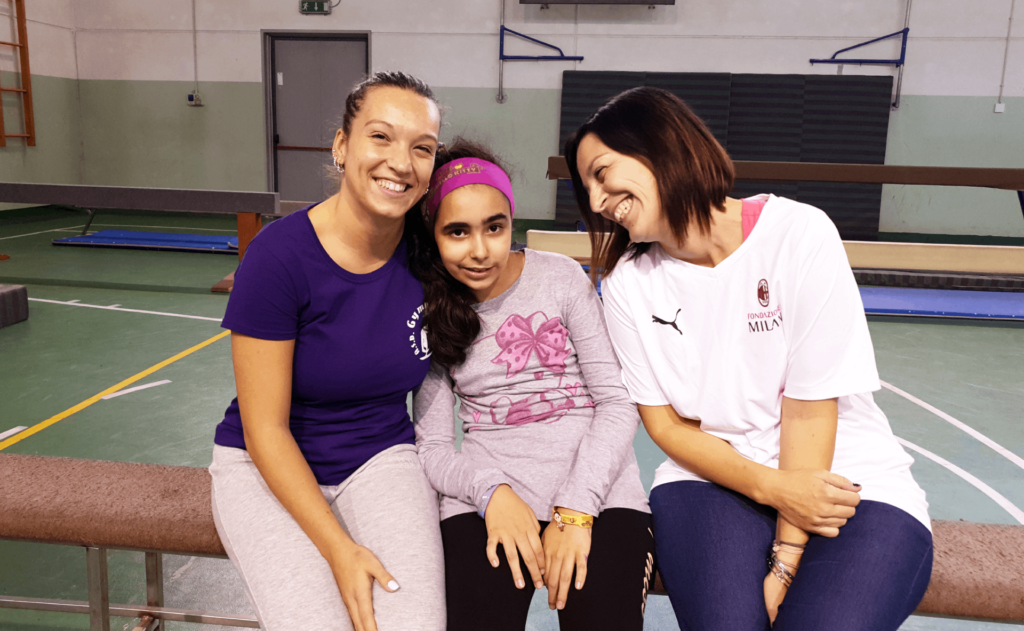 Emanuela is 9 years old, has an autism spectrum disorder, and it is a world to be discovered. As with any treasure, accessing it requires time and a key.
Some time ago, Emanuela joined the All Inclusive Sport project supported by Fondazione Milan.
For her tutor Greta, the key was sharing what Emanuela loves. "From the first day, I stood barefoot in the gym with her and let myself be led into her universe, where she takes refuge so we empathised," she tells us.
"One step at a time, we approached her companions in training, chatting about the exercises to be done, about school and homework, about the little things that bring together girls so different in age and ways of communicating. We learned to know them by name, to respect their time by staying in line, to wait our turn to get on the beam. After some time, I started to step aside: some girls would look for Emanuela in the breaks, give her drawings, take her by the hand to go play. Today at ASD Gymnica 2009 Emanuela is at home, the coaches are her points of reference and my presence as tutor is less and less necessary. Thanks to teamwork, of course… but Manu's achievements remain astounding.
"The child I see today is simply not the one of a year ago," adds coach Eleonora. "Emanuela should not be pushed or picked up, she memorises the exercises and maintains her concentration, she has no fears but rather shows a great desire to try new things and to take the compliments she deserves for the goals she achieves. In the beginning, we worked to have the group ready for her, but today mutual inclusion is absolutely natural".
Mum Rosa: "At the last competition she earned a special cup! She had an intense day: she performed all day with the team in a packed hall. Raising that cup was a victory on all fronts, a moment we won't forget".
Thanks to the support of BitMEX, Fondazione Milan will be able to support the sports practice of many young people with disabilities and spread the positive values of sport. Join the team!