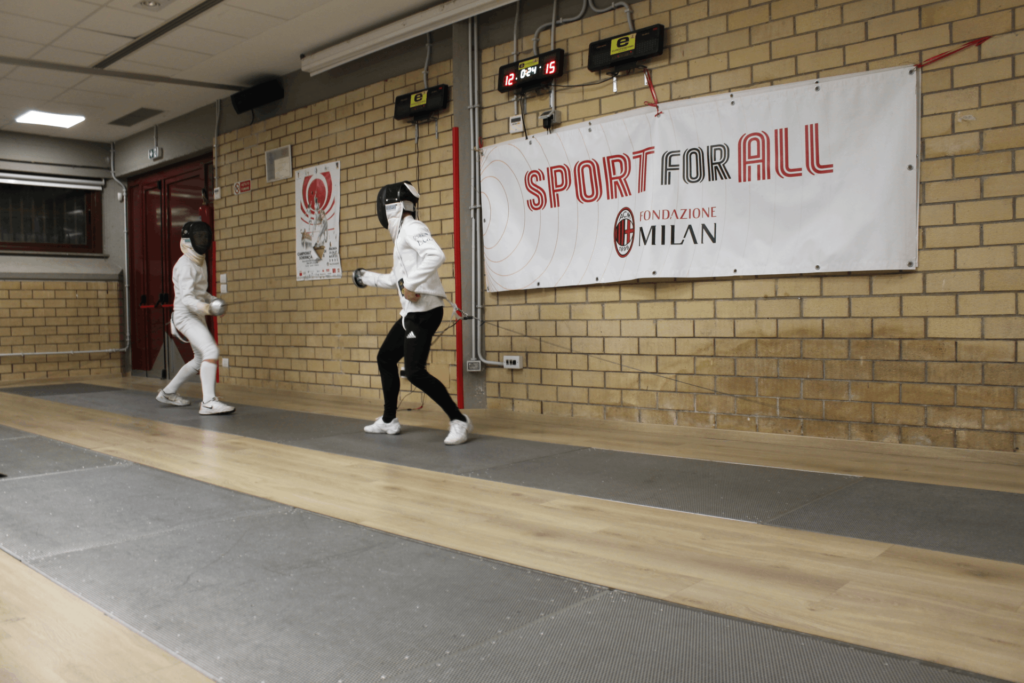 An educator from the Accademia Scherma Lia, supported by the Fondazione Milan, tells us Davide's story
"Davide is an extraordinary young man who has been attending the Accademia Scherma Lia for about two years. From the beginning, it was clear that this experience would have a significant impact on his life. Prior to discovering fencing, Davide was shy and reserved, often struggling with communication and feeling isolated. 
The Accademia Scherma Lia has been a revelation for Davide. He found a welcoming and inclusive environment where he felt part of the group from the very first day. The instructors played a fundamental role in making Davide feel at ease and motivating him to always give his best. With patience and dedication, they taught him the fundamentals of fencing, constantly pushing him to surpass his limits. 
Davide devotes hours to perfecting his lunges and assaults, always striving to improve his skills. Fencing has taught him discipline, concentration, and determination. Despite the challenges that autism can present, Davide has learned that he can achieve great results if he fully commits to what he does. 
But it's not just the technical aspect that captivates him. Here, he has found teammates who have accepted him for who he is. Together, they support, encourage, and have fun with each other. They have created a special bond that goes beyond fencing itself. 
Davide is deeply grateful to the supporters of the Fondazione Milan for giving him this wonderful opportunity. Thanks to the Sport for All program, he has been able to access a sports activity that has literally changed his life. Fencing has given Davide confidence, taught him how to manage stress, and made him more secure in social relationships. 
He knows that with his commitment, he can overcome any obstacle and achieve his dreams. I am proud to see the progress he has made, and I am confident that his future will be bright!"