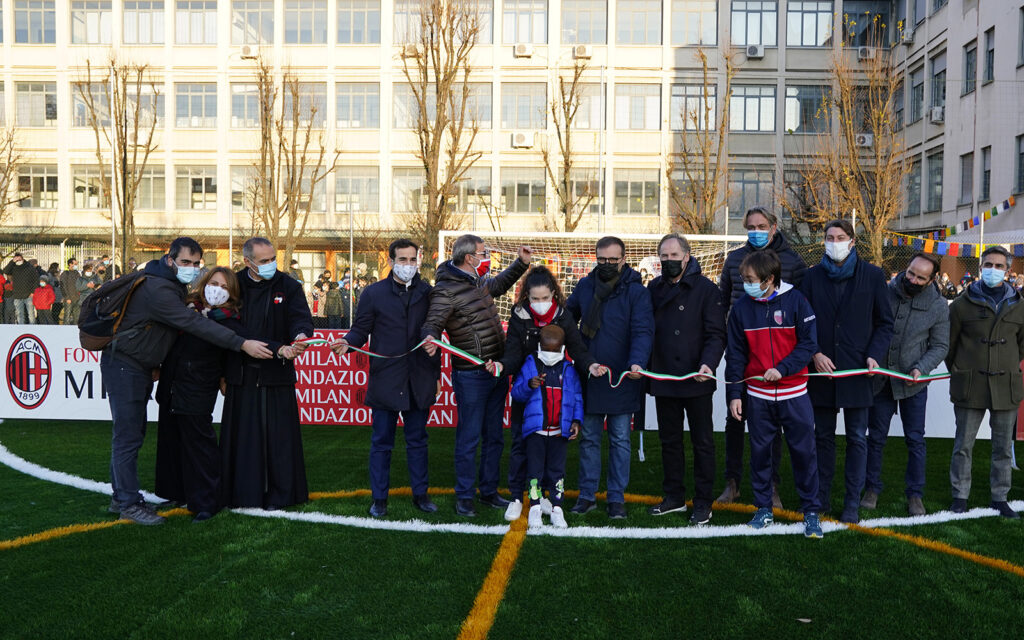 Milano, 27 December 2021 – As part of the "Assist" programme, through which Fondazione Milan aims to affect positive social change and improve people's quality of life, a new 7-a-side football pitch has been opened at the San Leonardo Murialdo Oratorio (youth centre) in the Lorenteggio-Giambellino district of Milan.
In this area of Milan, which is characterised by immigration and by the difficulties of integration between the various ethnic groups that call the district home, the Murialdo Oratorio provides the local community with constant support. They seek to help further the growth of the young people in the area – particular those most at risk – via projects and initiatives that stimulate their interests and promote development.
Among the proposed projects – given that they are not just a "simple" youth centre but a true centre of education and gathering for the whole community – those link to sport truly stand out.
2018 saw the founding of ASD Sporting Murialdo, which now has over a hundred children aged between 6 and 15 involved in basketball, football and volleyball. The club's main mission is to offer high-quality sport but also to remain accessible and inclusive to all, with a strong emphasis on education.
Fondazione Milan wanted to contribute to the project with a donation towards the construction of a new synthetic 7-a-side football pitch, thereby giving the kids in the district a top-quality and advanced facility for open-air sport and education.
The opening ceremony of the new Murialdo pitch – under the "For an Oratorio without borders" initiative – was held on Sunday 19 December at 15:00 at the youth centre on Via Padre Leonardo Murialdo in Milan. In attendance was AC Milan Honorary Vice-President and Fondazione Milan Ambassador Franco Baresi, as well as the President of Municipality 6 Santo Minniti and many of the boys and girls, who spend time at the Oratorio and play for ASD Sporting Murialdo.
"The work done by Fondazione Milan in the past year and been strongly oriented to helping children and families in need – due also to the pandemic. The Murialdo proposal, which we wanted to support, is united in our desire to provide a welcoming and inclusive centre for children, thereby providing them with an education that is done through sport," said Rocco Giorgianni, Fondazione Milan General Secretary.