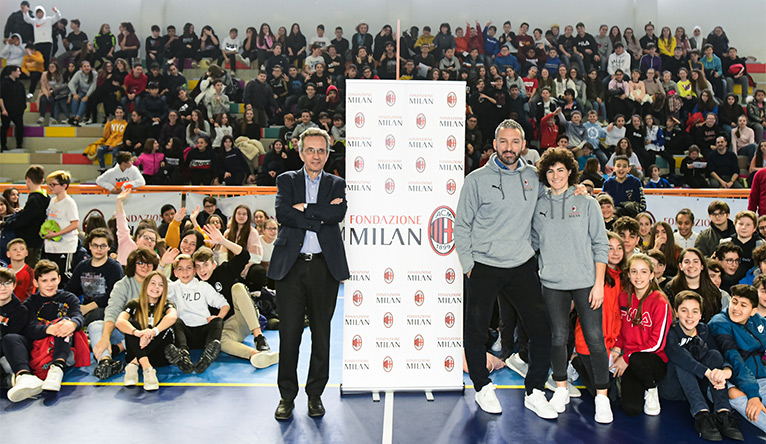 Federica Rizza and Gianluca Zambrotta spoke to the students of the "M. Buonarroti" Middle School in Olgiate Comasco
Rules help us grow (and win). That was the central theme of the newest encounter of the "Fondazione Milan in the Community" initiative. This fourth encounter promoted by Fondazione Milan and VITA involved 350 students of the "M. Buonarroti" Middle School from Olgiate Comasco, near Como, who heard from two special guests this morning: Rossonere defender Federica Rizza and club Gloria Gianluca Zambrotta.
The crowd gathered at the Olgiate Comasco public gym listened closely to what the two "Rossoneri" guests had to say as they, first, answered the moderator's questions and then satisfied the children's curiosity and inquiries, who'd been preparing with their teachers for weeks ahead of the event. The discussion centred around the importance of rules at school, in general life and sports, and provided plenty of food for thought for all who attended.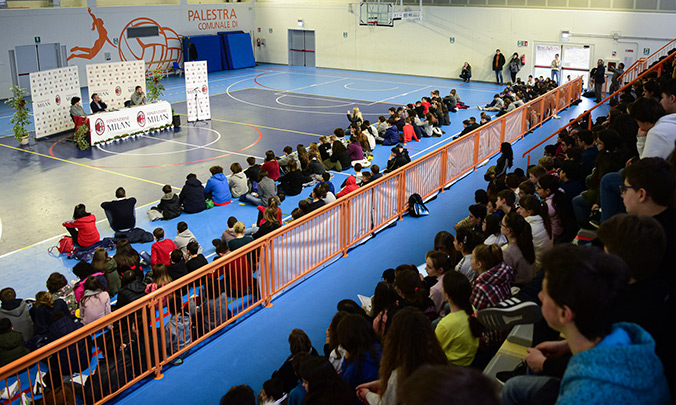 Federica Rizza focused on respecting the rules as a form of responsibility: "It is important for us to respect the rules as individuals, but it is also important to make sure others respect them, too. If one of your classmates should lose their way, we can help them understand and find their way back. This is not just your teachers, coaches or educators' job, it falls to all of us to help in our own way." Rizza went on to say: "Rules are not always to understand, sometimes they might seem like limitations. However, if we stop to ponder them for a short while, we come to see how they can help us grow and develop both as individuals and as athletes."
Gianluca Zambrotta touched on the topic of sacrifice: "Respecting the rules can mean having to make sacrifices. Because of that, when you achieve your objectives, the satisfaction is even greater. Making mistakes at school is perfectly normal, but it is important to learn from them and become better as a result. Never making mistakes doesn't mean being perfect, rather it could show a lack of trying for fear of failure."