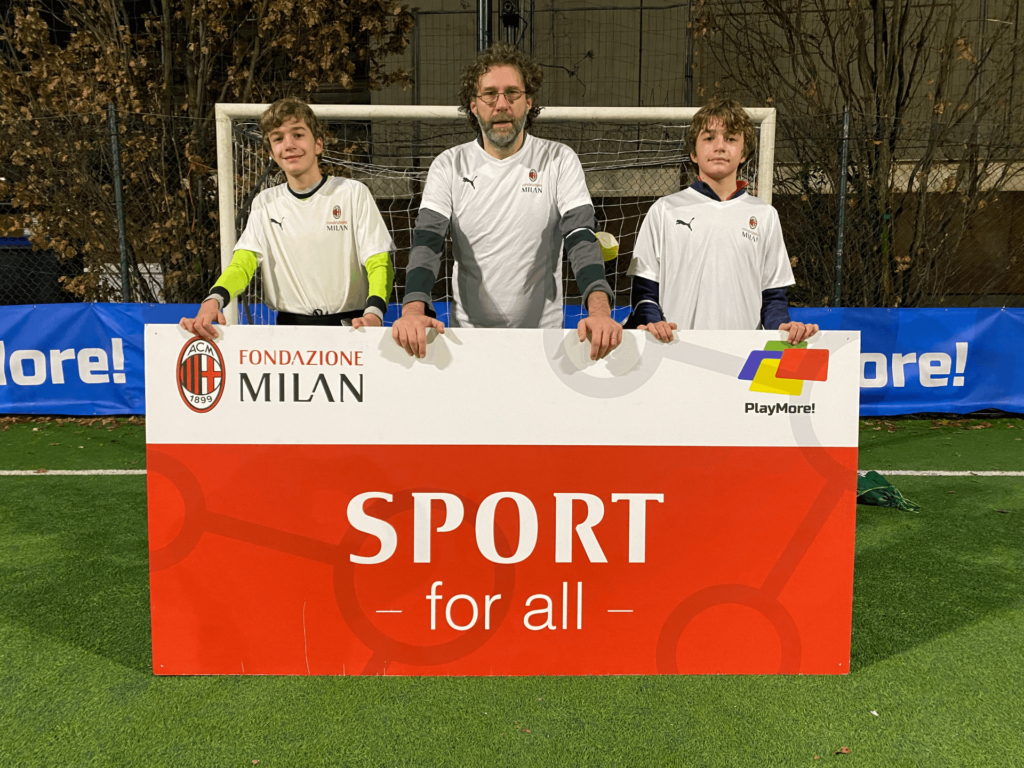 To be honest, I was just looking for a place where Marty and Ricky could play football… but nothing else… Learning, having fun… seriously, of course, but without too many pressures and without travelling leagues through the foggy winters of Lombardy. Save at least the weekend. So, surfing the web, we came across PlayMore! and signed them up.
Every week, Fridays from 6 to 7 pm. They play, I wait… there's a good atmosphere around here… a good way of treating each other, open and curious about each other. Not only on the field, with the boys, but also among the people. You can feel it in the spaces. And when the match is over, and the boys leave with the faces of world champions, I see the "Specials" from the Sport for All programme promoted by the Fondazione Milan and Playmore enter. And with them, the coaches and volunteers: children and adults who train with the seriousness of someone who is doing something important and with the attention of someone who puts himself "with" and "at the service" of others. I get curious, I ask, I get informed, and quickly I find myself on the field too, on Mondays and Fridays.
I've always liked kicking the ball around and also helping others; I instinctively think it will be a good experience. You get on the pitch, work for half an hour and then play the game. For the Specials, each gesture is a conquest: coordinating, understanding how to move, who to pass the ball to, realising your position and that of the others… For the volunteers, it's learning to play in the service of those who find it difficult to do gestures that are simple for you; it's learning to recognise who you have in front of you and to look through the eyes of others. You bend down to tie S.'s shoes, you guide G. in the warm-up exercise, you respect M.'s time, who does not have your coordination, you value the steps forward that you see and support the efforts. Or at least you try to. You find yourself, together with the coach, rejoicing because S., in front of the goalkeeper, resists the instinct to shoot and passes to the right, to a better positioned teammate who scores. For S., it is a conquest of self-awareness and of his surroundings. And for me, who got so excited about a pass? For me, it was rediscovering once again how taking an interest in others is an original, profound need, and that the more you experience this need, the more you grow.
And so you discover many things about others. And of oneself.  "I'm good, eh?" G. asks me repeatedly, while for the umpteenth time he gets the exercise wrong without realising it. "I'm good, eh?" means: "I am! I want to be happy! And you have to tell me that I'm worth it!" Which is what everyone wants for themselves, what I want for myself. So, through games and training, Sport for All means entering into the fatigue and – let's face it – even the suffering of children and families, knowing that we cannot do much to alleviate it, but discovering that we are all made of the same dough, that we are "kneaded" with the desire for good, for ourselves, for others and with others. And that we can take this desire seriously and walk together, carrying each other on our shoulders.
A strange law of life, the one by which you discover yourself only when you look at the person in front of you and see yourself in him, rediscover yourself in him. And I see myself in the boy who does everything he can to score and gets angry when he loses, because I too am happy when I play well and win! And I rediscover myself in the volunteer who, having grown up in PlayMore!, decides to devote his studies to education. And in the coaches, who put all their professionalism on the field, and in their eyes all their desire to see the children happy. And so the Specials, volunteers and coaches are no longer just those to whom, or with whom, you "give" something, two hours a week. They become your travelling companions.
By the way, Marty and Ricky, from this year they play on Mondays. But then they stay with me and the Specials, to learn to grow and discover themselves. With others.
Join the team with us!